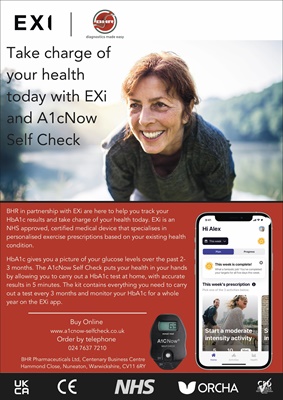 BHR in partnership with EXi are here to help you track your
HbA1c results and take charge of your health today. EXi is an
NHS approved, certified medical device that specialises in
personalised exercise prescriptions based on your existing health
condition.
HbA1c gives you a picture of your glucose levels over the past 23
months. The A1cNow Self Check puts your health in your hands
by allowing you to carry out a HbA1c test at home, with accurate
results in 5 minutes. The kit contains everything you need to carry
out a test every 3 months and monitor your HbA1c for a whole
year on the EXi app.
Take charge of
your health
today with EXi
and A1cNow
Self Check
BHR Pharmaceuticals Ltd, Centenary Business Centre
Hammond Close, Nuneaton, Warwickshire, CV11 6RY
Buy Online
Order by telephone
024 7637 7210