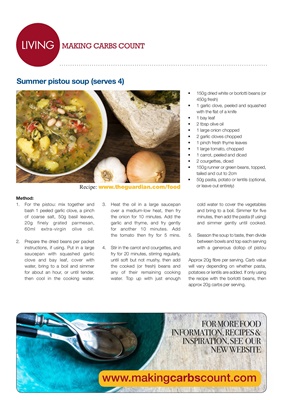 LIVINGLIVING
Summer pistou soup (serves 4)
MAKING CARBS COUNT
• 150g dried white or borlotti beans (or
450g fresh)
• 1 garlic clove, peeled and squashed
with the flat of a knife
• 1 bay leaf
• 2 tbsp olive oil
• 1 large onion chopped
• 2 garlic cloves chopped
• 1 pinch fresh thyme leaves
• 1 large tomato, chopped
• 1 carrot, peeled and diced
• 2 courgettes, diced
• 150g runner or green beans, topped,
tailed and cut to 2cm
• 50g pasta, potato or lentils (optional,
or leave out entirely)
FOR MORE FOOD
INFORMATION, RECIPES &
INSPIRATION, SEE OUR
NEW WEBSITE
Recipe: www.theguardian.com/food
Method:
1. For the pistou: mix together and
bash 1 peeled garlic clove, a pinch
of coarse salt, 50g basil leaves,
20g finely grated parmesan,
60ml extra-virgin olive oil.
2. Prepare the dried beans per packet
instructions, if using. Put in a large
saucepan with squashed garlic
clove and bay leaf, cover with
water, bring to a boil and simmer
for about an hour, or until tender,
then cool in the cooking water.
3. Heat the oil in a large saucepan
over a medium-low heat, then fry
the onion for 10 minutes. Add the
garlic and thyme, and fry gently
for another 10 minutes. Add
the tomato then fry for 5 mins.
4. Stir in the carrot and courgettes, and
fry for 20 minutes, stirring regularly,
until soft but not mushy, then add
the cooked (or fresh) beans and
any of their remaining cooking
water. Top up with just enough
cold water to cover the vegetables
and bring to a boil. Simmer for five
minutes, then add the pasta (if using)
and simmer gently until cooked.
5. Season the soup to taste, then divide
between bowls and top each serving
with a generous dollop of pistou
Approx 20g fibre per serving. Carb value
will vary depending on whether pasta,
potatoes or lentils are added. If only using
the recipe with the borlotti beans, then
approx 20g carbs per serving.