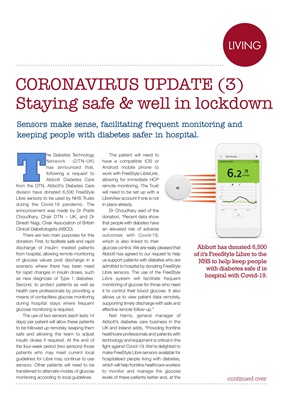 KITLIVING
Sensors make sense, facilitating frequent monitoring and
keeping people with diabetes safer in hospital.
CORONAVIRUS UPDATE (3)
Staying safe & well in lockdown
T
he Diabetes Technology
Network (DTN-UK)
has announced that,
following a request to
Abbott Diabetes Care
from the DTN, Abbott's Diabetes Care
division have donated 6,500 FreeStyle
Libre sensors to be used by NHS Trusts
during the Covid-19 pandemic. The
announcement was made by Dr Pratik
Choudhary, Chair DTN - UK, and Dr
Dinesh Nagi, Chair Association of British
Clinical Diabetologists (ABCD).
There are two main purposes for this
donation. First, to facilitate safe and rapid
discharge of insulin- treated patients
from hospital, allowing remote monitoring
of glucose values post discharge in a
scenario where there has been need
for rapid changes in insulin doses, such
as new diagnosis of Type 1 diabetes.
Second, to protect patients as well as
health care professionals by providing a
means of contactless glucose monitoring
during hospital stays where frequent
glucose monitoring is required.
The use of two sensors (each lasts 14
days) per patient will allow these patients
to be followed up remotely, keeping them
safe and allowing the team to adjust
insulin doses if required. At the end of
the four-week period (two sensors) those
patients who may meet current local
guidelines for Libre may continue to use
sensors. Other patients will need to be
transferred to alternate modes of glucose
monitoring according to local guidelines.
The patient will need to
have a compatible IOS or
Android mobile phone to
work with FreeStyle LibreLink,
allowing for immediate HCP
remote monitoring. The Trust
will need to be set up with a
LibreView account if one is not
in place already.
Dr Choudhary said of the
donation, "Recent data show
that people with diabetes have
an elevated risk of adverse
outcomes with Covid-19,
which is also linked to their
glucose control. We are really pleased that
Abbott has agreed to our request to help
us support patients with diabetes who are
admitted to hospital by donating FreeStyle
Libre sensors. The use of the FreeStyle
Libre system will facilitate frequent
monitoring of glucose for those who need
it to control their blood glucose. It also
allows us to view patient data remotely,
supporting timely discharge with safe and
effective remote follow-up."
Neil Harris, general manager of
Abbott's diabetes care business in the
UK and Ireland adds, "Providing frontline
healthcare professionals and patients with
technology and equipment is critical in the
fight against Covid-19. We're delighted to
make FreeStyle Libre sensors available for
hospitalised people living with diabetes,
which will help frontline healthcare workers
to monitor and manage the glucose
levels of these patients better and, at the continued over
Abbott has donated 6,500
of it's FreeStyle Libre to the
NHS to help keep people
with diabetes safe if in
hospital with Covid-19.