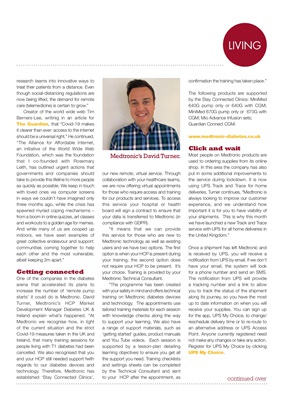 KITLIVING
continued over
research teams into innovative ways to
treat their patients from a distance. Even
though social-distancing regulations are
now being lifted, the demand for remote
care (telemedicine) is certain to grow."
Creator of the world wide web Tim
Berners-Lee, writinig in an article for
The Guardian, that "Covid-19 makes
it clearer than ever: access to the internet
should be a universal right." He continued,
"The Alliance for Affordable Internet,
an initiative of the World Wide Web
Foundation, which was the foundation
that I co-founded with Rosemary
Leith, has outlined urgent actions that
governments and companies should
take to provide this lifeline to more people
as quickly as possible. We keep in touch
with loved ones via computer screens
in ways we couldn't have imagined only
three months ago, while the crisis has
spawned myriad coping mechanisms -
from a boom in online quizzes, art classes
and workouts to a golden age for memes.
And while many of us are cooped up
indoors, we have seen examples of
great collective endeavour and support:
communities coming together to help
each other and the most vulnerable,
albeit keeping 2m apart."
Getting connected
One of the companies in the diabetes
arena that accelerated its plans to
increase the number of 'remote pump
starts' it could do is Medtronic. David
Turner, Medtronic's HCP Market
Development Manager Diabetes UK &
Ireland explain what's happened. "At
Medtronic we recognise how, in light
of the current situation and the strict
Covid-19 measures taken in the UK and
Ireland, that many training sessions for
people living with T1 diabetes had been
cancelled. We also recognised that you
and your HCP still needed support fwith
regards to our diabetes devices and
technology. Therefore, Medtronic has
established 'Stay Connected Clinics',
our new remote, virtual service. Through
collaboration with your healthcare teams,
we are now offering virtual appointments
for those who require access and training
for our products and services. To access
this service your hospital or health
board will sign a contract to ensure that
your data is transferred to Medtronic (in
compliance with GDPR).
"It means that we can provide
this service for those who are new to
Medtronic technology as well as existing
users and we have two options. The first
option is when your HCP is present during
your training; the second option does
not require your HCP to be present. It's
your choice. Training is provided by your
Medtronic Technical Consultant.
"The programme has been created
with your safety in mind and offers technical
training on Medtronic diabetes devices
and technology. The appointments use
tailored training materials for each session
with knowledge checks along the way
to support your learning. We also have
a range of support materials, such as
'getting started' guides, product manuals
and You Tube videos. Each session is
supported by a lesson-plan detailing
learning objectives to ensure you get all
the support you need. Training checklists
and settings sheets can be completed
by the Technical Consultant and sent
to your HCP after the appointment, as
confirmation the training has taken place."
The following products are supported
by the Stay Connected Clinics: MiniMed
640G pump only or 640G with CGM;
MiniMed 670G pump only or 670G with
CGM; Mio Advance Infusion sets;
Guardian Connect CGM.
Click and wait
Most people on Medtronic products are
used to ordering supplies from its online
shop. In this area the company has also
put in some additional improvements to
the service during lockdown. It is now
using UPS Track and Trace for home
deliveries. Turner continues, "Medtronic is
always looking to improve our customer
experience, and we understand how
important it is for you to have visibility of
your shipments. This is why this month
we have launched a new Track and Trace
service with UPS for all home deliveries in
the United Kingdom."
Once a shipment has left Medtronic and
is received by UPS, you will receive a
notification from UPS by email. If we don't
have your email, the system will look
for a phone number and send an SMS.
The notification from UPS will provide
a tracking number and a link to allow
you to track the status of the shipment
along its journey, so you have the most
up to date information on when you will
receive your supplies. You can sign up
for the app, UPS My Choice, to change/
reschedule delivery time or to re-route to
an alternative address or UPS Access
Point. Anyone currently registered need
not make any changes or take any action.
Register for UPS My Choice by clicking
UPS My Choice.
Medtronic's David Turner.