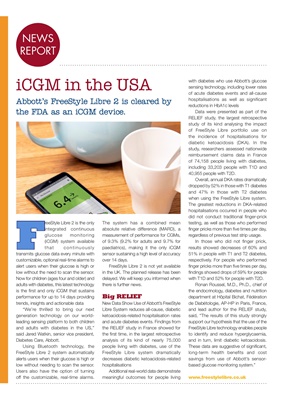 NEWS
NEWS
REPORT
Abbott's FreeStyle Libre 2 is cleared by
the FDA as an iCGM device.
F
reeStyle Libre 2 is the only
integrated continuous
glucose monitoring
(iCGM) system available
that continuously
transmits glucose data every minute with
customizable, optional real-time alarms to
alert users when their glucose is high or
low without the need to scan the sensor.
Now for children (ages four and older) and
adults with diabetes, this latest technology
is the first and only iCGM that sustains
performance for up to 14 days providing
trends, insights and actionable data
"We're thrilled to bring our next
generation technology on our worldleading sensing platform to both children
and adults with diabetes in the US,"
said Jared Watkin, senior vice president,
Diabetes Care, Abbott.
Using Bluetooth technology, the
FreeStyle Libre 2 system automatically
alerts users when their glucose is high or
low without needing to scan the sensor.
Users also have the option of turning
off the customizable, real-time alarms.
iCGM in the USA
The system has a combined mean
absolute relative difference (MARD), a
measurement of performance for CGMs,
of 9.3% (9.2% for adults and 9.7% for
paediatrics), making it the only iCGM
sensor sustaining a high level of accuracy
over 14 days.
FreeStyle Libre 2 is not yet available
in the UK. The planned release has been
delayed. We will keep you informed when
there is further news.
Big RELIEF
New Data Show Use of Abbott's FreeStyle
Libre System reduces all-cause, diabetic
ketoacidosis-related hospitalisation rates
and acute diabetes events. Findings from
the RELIEF study in France showed for
the first time, in the largest retrospective
analysis of its kind of nearly 75,000
people living with diabetes, use of the
FreeStyle Libre system dramatically
decreases diabetic ketoacidosis-related
hospitalisations
Additional real-world data demonstrate
meaningful outcomes for people living
with diabetes who use Abbott's glucose
sensing technology, including lower rates
of acute diabetes events and all-cause
hospitalisations as well as significant
reductions in HbA1c levels
Data were presented as part of the
RELIEF study, the largest retrospective
study of its kind analysing the impact
of FreeStyle Libre portfolio use on
the incidence of hospitalisations for
diabetic ketoacidosis (DKA). In the
study, researchers assessed nationwide
reimbursement claims data in France
of 74,158 people living with diabetes,
including 33,203 people with T1D and
40,955 people with T2D.
Overall, annual DKA rates dramatically
dropped by 52% in those with T1 diabetes
and 47% in those with T2 diabetes
when using the FreeStyle Libre system.
The greatest reductions in DKA-related
hospitalisations occurred in people who
did not conduct traditional finger-prick
testing, as well as those who performed
finger pricks more than five times per day,
regardless of previous test strip usage.
In those who did not finger prick,
results showed decreases of 60% and
51% in people with T1 and T2 diabetes,
respectively. For people who performed
finger pricks more than five times per day,
findings showed drops of 59% for people
with T1D and 52% for people with T2D.
Ronan Roussel, M.D., Ph.D., chief of
the endocrinology, diabetes and nutrition
department at Hôpital Bichat, Fédération
de Diabétologie, AP-HP in Paris, France,
and lead author for the RELIEF study,
said, "The results of this study strongly
support our hypothesis that the use of the
FreeStyle Libre technology enables people
to identify and reduce hyperglycaemia,
and in turn, limit diabetic ketoacidosis.
These data are suggestive of significant,
long-term health benefits and cost
savings from use of Abbott's sensorbased glucose monitoring system."