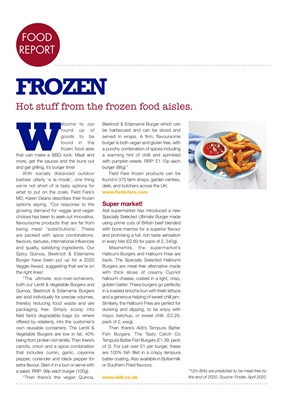 KIT
FROZEN
Hot stuff from the frozen food aisles.
W
elcome to our
round up of
goods to be
found in the
frozen food aisle
that can make a BBQ rock. Meat and
more, get the sauces and the buns out
and get grilling, it's burger time!
With socially distanced outdoor
barbies utterly 'a la mode', one thing
we're not short of is tasty options for
what to put on the coals. Field Fare's
MD, Karen Deans describes their frozen
options saying, "Our response to the
growing demand for veggie and vegan
choices has been to seek out innovative,
flavoursome products that are far from
being meat 'substitutions'. These
are packed with spice combinations,
flavours, textures, international influences
and quality, satisfying ingredients. Our
Spicy Quinoa, Beetroot & Edamame
Burger have been put up for a 2020
Veggie Award, suggesting that we're on
the right lines!
"The ultimate eco-over-achievers,
both our Lentil & Vegetable Burgers and
Quinoa, Beetroot & Edamame Burgers
are sold individually for precise volumes,
thereby reducing food waste and are
packaging free. Simply scoop into
field fare's degradable bags (or, where
offered by retailers), into the customer's
own reusable containers. The Lentil &
Vegetable Burgers are low in fat, 40%
being from protein-rich lentils. Then there's
carrots, onion and a spice combination
that includes cumin, garlic, cayenne
pepper, coriander and black pepper for
extra flavour. Slam it in a bun or serve with
a salad. RRP: 99p each burger (100g).
"Then there's the vegan Quinoa,
FOOD
REPORT
Beetroot & Edamame Burger which can
be barbecued and can be sliced and
served in wraps. A firm, flavoursome
burger is both vegan and gluten free, with
a punchy combination of spices including
a warming hint of chilli and sprinkled
with pumpkin seeds. RRP: £1.10p each
burger (88g)."
Field Fare frozen products can be
found in 375 farm shops, garden centres,
delis, and butchers across the UK.
Super market!
Aldi supermarket has introduced a new
Specially Selected Ultimate Burger made
using prime cuts of British beef blended
with bone marrow for a superior flavour
and promising a full, rich taste sensation
in every bite (£2.69 for pack of 2, 340g).
Meanwhile, the supermarket's
Halloumi Burgers and Halloumi Fries are
back. The Specially Selected Halloumi
Burgers are meat-free alternative made
with thick slices of creamy Cypriot
halloumi cheese, coated in a light, crisp,
golden batter. These burgers go perfectly
in a toasted brioche bun with fresh lettuce
and a generous helping of sweet chilli jam.
Similarly, the Halloumi Fries are perfect for
dunking and dipping, to be enjoy with
mayo, ketchup, or sweet chilli. (£2.29,
pack of 2, xxxg).
Then there's Aldi's Tempura Batter
Fish Burgers. The Tasty Catch Co
Tempura Batter Fish Burgers (£1.39, pack
of 2). For just over £1 per burger, these
are 100% fish fillet in a crispy tempura
batter coating. Also available in Buttermilk
or Southern Fried flavours.
*12m Brits are predicted to be meat-free by
the end of 2020. Source: Finder, April 2020