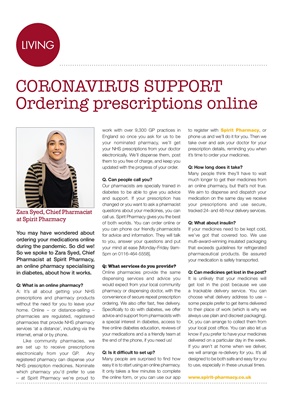 LIVINGLIVING
work with over 9,300 GP practices in
England so once you ask for us to be
your nominated pharmacy, we'll get
your NHS prescriptions from your doctor
electronically. We'll dispense them, post
them to you free of charge, and keep you
updated with the progress of your order.
Q. Can people call you?
Our pharmacists are specially trained in
diabetes to be able to give you advice
and support. If your prescription has
changed or you want to ask a pharmacist
questions about your medicines, you can
call us. Spirit Pharmacy gives you the best
of both worlds. You can order online or
you can phone our friendly pharmacists
for advice and information. They will talk
to you, answer your questions and put
your mind at ease [Monday-Friday 9am5pm on 0116-464-5558].
Q: What services do you provide?
Online pharmacies provide the same
dispensing services and advice you
would expect from your local community
pharmacy or dispensing doctor, with the
convenience of secure repeat prescription
ordering. We also offer fast, free delivery.
Specifically to do with diabetes, we offer
advice and support from pharmacists with
a special interest in diabetes, access to
free online diabetes education, reviews of
your medications and a a friendly team at
the end of the phone, if you need us!
Q: Is it difficult to set up?
Many people are surprised to find how
easy it is to start using an online pharmacy.
It only takes a few minutes to complete
the online form, or you can use our app to
You may have wondered about
ordering your medications online
during the pandemic. So did we!
So we spoke to Zara Syed, Chief
Pharmacist at Spirit Pharmacy,
an online pharmacy specialising
in diabetes, about how it works.
Q: What is an online pharmacy?
A: It's all about getting your NHS
prescriptions and pharmacy products
without the need for you to leave your
home. Online - or distance-selling -
pharmacies are regulated, registered
pharmacies that provide NHS pharmacy
services 'at a distance', including via the
internet, email or by phone.
Like community pharmacies, we
are set up to receive prescriptions
electronically from your GP. Any
registered pharmacy can dispense your
NHS prescription medicines. Nominate
which pharmacy you'd prefer to use
- at Spirit Pharmacy we're proud to
Zara Syed, Chief Pharmacist
at Spirit Pharmacy
CORONAVIRUS SUPPORT
Ordering prescriptions online
register with Spirit Pharmacy, or phone us
and we'll do it for you. Then we take over
and ask your doctor for your prescription
details, reminding you when it's time to
order your medicines.
Q: How long does it take?
Many people think they'll have to wait
much longer to get their medicines from
an online pharmacy, but that's not true.
We aim to dispense and dispatch your
medication on the same day we receive
your prescriptions and use secure,
tracked 24- and 48-hour delivery services.
Q: What about insulin?
If your medicines need to be kept cold,
we've got that covered too. We use
multi-award-winning insulated packaging
that exceeds guidelines for refrigerated
pharmaceutical products. Be assured
your medication is safely transported.
Q: Can medicines get lost in the post?
It is unlikely that your medicines will
get lost in the post because we use
a trackable delivery service. You can
choose what delivery address to use -
some people prefer to get items delivered
to their place of work (which is why we
always use plain and discreet packaging).
Or, you can arrange to collect them from
your local post office. You can also let us
know if you prefer to have your medicines
delivered on a particular day in the week.
If you aren't at home when we deliver,
we will arrange re-delivery for you. It's all
designed to be both safe and easy for you
to use, especially in these unusual times.