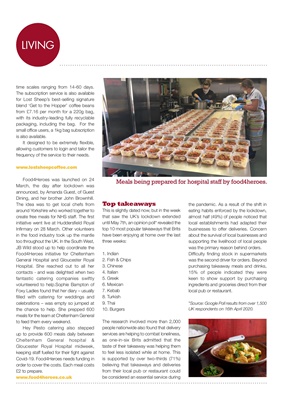 LIVINGLIVING
time scales ranging from 14-60 days.
The subscription service is also available
for Lost Sheep's best-selling signature
blend 'Get to the Hopper' coffee beans
from £7.16 per month for a 220g bag,
with its industry-leading fully recyclable
packaging, including the bag. For the
small office users, a 1kg bag subscription
is also available.
It designed to be extremely flexible,
allowing customers to login and tailor the
frequency of the service to their needs.
Food4Heroes was launched on 24
March, the day after lockdown was
announced, by Amanda Guest, of Guest
Dining, and her brother John Brownhill.
The idea was to get local chefs from
around Yorkshire who worked together to
create free meals for NHS staff. The first
initiative went live at Huddersfield Royal
Infirmary on 28 March. Other volunteers
in the food industry took up the mantle
too throughout the UK. In the South West,
JB Wild stood up to help coordinate the
Food4Heroes initiative for Cheltenham
General Hospital and Gloucester Royal
Hospital. She reached out to all her
contacts - and was delighted when two
fantastic catering companies swiftly
volunteered to help.Sophie Bampton of
Foxy Ladies found that her diary - usually
filled with catering for weddings and
celebrations - was empty so jumped at
the chance to help. She prepped 600
meals for the team at Cheltenham General
to feed them every weekend.
Hey Pesto catering also stepped
up to provide 600 meals daily between
Cheltenham General hospital &
Gloucester Royal Hospital midweek,
keeping staff fuelled for their fight against
Covid-19. Food4Heroes needs funding in
order to cover the costs. Each meal costs
£2 to prepare.
Top takeaways
This is slightly dated now, but in the week
that saw the UK's lockdown extended
until May 7th, an opinion poll* revealed the
top 10 most popular takeaways that Brits
have been enjoying at home over the last
three weeks:
1. Indian
2. Fish & Chips
3. Chinese
4. Italian
5. Greek
6. Mexican
7. Kebab
8. Turkish
9. Thai
10. Burgers
The research involved more than 2,000
people nationwide also found that delivery
services are helping to combat loneliness,
as one-in-six Brits admitted that the
taste of their takeaway was helping them
to feel less isolated while at home. This
is supported by over two-thirds (71%)
believing that takeaways and deliveries
from their local pub or restaurant could
be considered an essential service during
the pandemic. As a result of the shift in
eating habits enforced by the lockdown,
almost half (49%) of people noticed that
local establishments had adapted their
businesses to offer deliveries. Concern
about the survival of local businesses and
supporting the livelihood of local people
was the primary reason behind orders.
Difficulty finding stock in supermarkets
was the second driver for orders. Beyond
purchasing takeaway meals and drinks,
15% of people indicated they were
keen to show support by purchasing
ingredients and groceries direct from their
local pub or restaurant.
*Source: Google Poll results from over 1,500
UK respondents on 16th April 2020.
Meals being prepared for hospital staff by food4heroes.