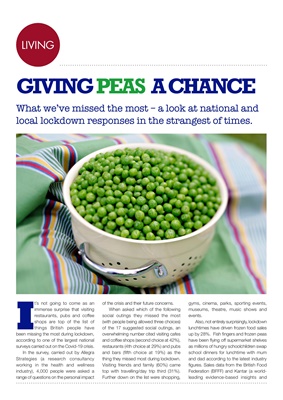 LIVINGLIVING
GIVING PEAS A CHANCE
What we've missed the most - a look at national and
local lockdown responses in the strangest of times.
I
t's not going to come as an
immense surprise that visiting
restaurants, pubs and coffee
shops are top of the list of
things British people have
been missing the most during lockdown,
according to one of the largest national
surveys carried out on the Covid-19 crisis.
In the survey, carried out by Allegra
Strategies (a research consultancy
working in the health and wellness
industry), 4,000 people were asked a
range of questions on the personal impact
of the crisis and their future concerns.
When asked which of the following
social outings they missed the most
(with people being allowed three choices)
of the 17 suggested social outings, an
overwhelming number cited visiting cafes
and coffee shops (second choice at 42%),
restaurants (4th choice at 29%) and pubs
and bars (fifth choice at 19%) as the
thing they missed most during lockdown.
Visiting friends and family (60%) came
top with travelling/day trip third (31%).
Further down on the list were shopping,
gyms, cinema, parks, sporting events,
museums, theatre, music shows and
events.
Also, not entirely surprisingly, lockdown
lunchtimes have driven frozen food sales
up by 28%. Fish fingers and frozen peas
have been flying off supermarket shelves
as millions of hungry schoolchildren swap
school dinners for lunchtime with mum
and dad according to the latest industry
figures. Sales data from the British Food
Federation (BFFF) and Kantar (a worldleading evidence-based insights and