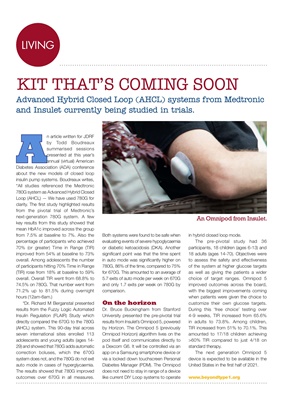 LIVINGLIVING
KIT THAT'S COMING SOON
A
n article written for JDRF
by Todd Boudreaux
summarised sessions
presented at this year's
annual (virtual) American
Diabetes Association (ADA) conference
about the new models of closed loop
insulin pump systems. Boudreaux writes,
"All studies referenced the Medtronic
780G system as Advanced Hybrid Closed
Loop (AHCL) - We have used 780G for
clarity. The first study highlighted results
from the pivotal trial of Medtronic's
next-generation 780G system. A few
key results from this study showed that
mean HbA1c improved across the group
from 7.5% at baseline to 7%. Also the
percentage of participants who achieved
70% (or greater) Time in Range (TIR)
improved from 54% at baseline to 73%
overall. Among adolescents the number
of participants hitting 70% Time in Range
(TIR) rose from 18% at baseline to 59%
overall. Overall TIR went from 68.8% to
74.5% on 780G. That number went from
71.2% up to 81.5% during overnight
hours (12am-6am.)
"Dr. Richard M Berganstal presented
results from the Fuzzy Logic Automated
Insulin Regulation (FLAIR) Study which
directly compared the 670G to the 780G
(AHCL) system. This 90-day trial across
seven international sites enrolled 113
adolescents and young adults (ages 14-
29) and showed that 780G adds automatic
correction boluses, which the 670G
system does not, and the 780G do not exit
auto mode in cases of hyperglycaemia.
The results showed that 780G improved
outcomes over 670G in all measures.
Both systems were found to be safe when
evaluating events of severe hypoglycaemia
or diabetic ketoacidosis (DKA). Another
significant point was that the time spent
in auto mode was significantly higher on
780G, 86% of the time, compared to 75%
for 670G. This amounted to an average of
5.7 exits of auto mode per week on 670G
and only 1.7 exits per week on 780G by
comparison.
On the horizon
Dr. Bruce Buckingham from Stanford
University presented the pre-pivotal trial
results from Insulet's Omnipod 5, powered
by Horizon. The Omnipod 5 (previously
Omnipod Horizon) algorithm lives on the
pod itself and communicates directly to
a Dexcom G6. It will be controlled via an
app on a Samsung smartphone device or
via a locked down touchscreen Personal
Diabetes Manager (PDM). The Omnipod
does not need to stay in range of a device
like current DIY Loop systems to operate
in hybrid closed loop mode.
The pre-pivotal study had 36
participants, 18 children (ages 6-13) and
18 adults (ages 14-70). Objectives were
to assess the safety and effectiveness
of the system at higher glucose targets
as well as giving the patients a wider
choice of target ranges. Omnipod 5
improved outcomes across the board,
with the biggest improvements coming
when patients were given the choice to
customize their own glucose targets.
During this 'free choice' testing over
4-9 weeks, TIR increased from 65.6%
in adults to 73.8%. Among children,
TIR increased from 51% to 70.1%. This
amounted to 17/18 children achieving
>60% TIR compared to just 4/18 on
standard therapy.
The next generation Omnipod 5
device is expected to be available in the
United States in the first half of 2021.
Advanced Hybrid Closed Loop (AHCL) systems from Medtronic
and Insulet currently being studied in trials. An Omnipod from Insulet.