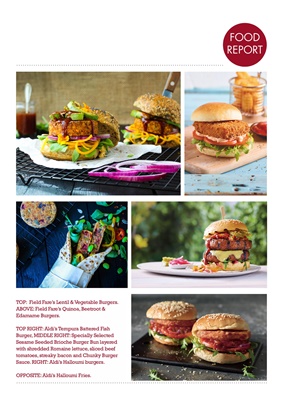 KITLIVING
TOP: Field Fare's Lentil & Vegetable Burgers.
ABOVE: Field Fare's Quinoa, Beetroot &
Edamame Burgers.
TOP RIGHT: Aldi's Tempura Battered Fish
Burger, MIDDLE RIGHT: Specially Selected
Sesame Seeded Brioche Burger Bun layered
with shredded Romaine lettuce, sliced beef
tomatoes, streaky bacon and Chunky Burger
Sauce. RIGHT: Aldi's Halloumi burgers.
OPPOSITE: Aldi's Halloumi Fries.
FOOD
REPORT