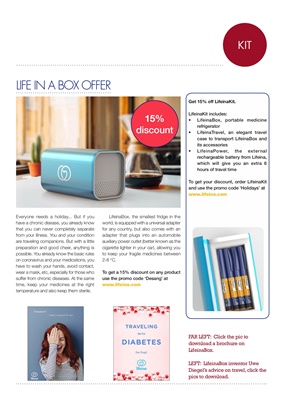 KIT
LIFE IN A BOX OFFER
50%
discount
Get a LifeinaTravel carry case (worth
50 Euros) with the purchase of
LifeinaBox and its battery.
LifeinaKit includes:
• LifeinaBox, portable medicine
refrigerator
• LifeinaTravel, an elegant travel
case to transport LifeinaBox and
its accessories
• LifeinaPower, the external
rechargeable battery from Lifeina,
which will give you an extra 6
hours of travel time
To get your discount, order LifeinaKit
and use the promo code 'Desang' at
Everyone needs a holiday... But if you
have a chronic disease, you already know
that you can never completely separate
from your illness. You and your condition
are traveling companions. But with a little
preparation and good cheer, anything is
possible. You already know the basic rules
on coronavirus and your medications, you
have to wash your hands, avoid contact,
wear a mask, etc, especially for those who
suffer from chronic diseases. At the same
time, keep your medicines at the right
temperature and also keep them sterile.
LifeinaBox, the smallest fridge in the
world, is equipped with a universal adapter
for any country, but also comes with an
adapter that plugs into an automobile
auxiliary power outlet (better known as the
cigarette lighter in your car), allowing you
to keep your fragile medicines between
2-8 °C.
To get a 50% discount on LifeinaKit
use the promo code 'Desang' at
TRAVELING
WITH
DIABETES
Uwe Diegel
FAR LEFT: Click the pic to
download a brochure on
LifeinaBox.
LEFT: LifeinaBox inventor Uwe
Diegel's advice on travel, click the
pic to download.