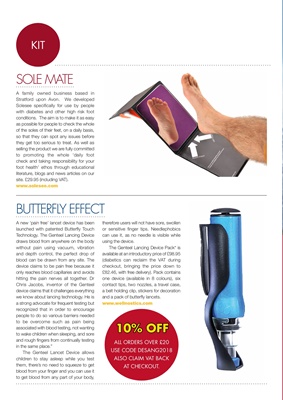 KIT
A family owned business based in
Stratford upon Avon. We developed
Solesee specifically for use by people
with diabetes and other high risk foot
conditions. The aim is to make it as easy
as possible for people to check the whole
of the soles of their feet, on a daily basis,
so that they can spot any issues before
they get too serious to treat. As well as
selling the product we are fully committed
to promoting the whole 'daily foot
check and taking responsibility for your
foot health' ethos through educational
literature, blogs and news articles on our
site. £29.95 (including VAT).
SOLE MATE
A new 'pain free' lancet device has been
launched with patented Butterfly Touch
Technology. The Genteel Lancing Device
draws blood from anywhere on the body
without pain using vacuum, vibration
and depth control, the perfect drop of
blood can be drawn from any site. The
device claims to be pain free because it
only reaches blood capillaries and avoids
hitting the pain nerves all together. Dr
Chris Jacobs, inventor of the Genteel
device claims that it challenges everything
we know about lancing technology. He is
a strong advocate for frequent testing but
recognized that in order to encourage
people to do so various barriers needed
to be overcome such as pain being
associated with blood testing, not wanting
to wake children when sleeping, and sore
and rough fingers from continually testing
in the same place."
The Genteel Lancet Device allows
children to stay asleep while you test
them, there's no need to squeeze to get
blood from your finger and you can use it
to get blood from any part of your body,
BUTTERFLY EFFECT
therefore users will not have sore, swollen
or sensitive finger tips. Needlephobics
can use it, as no needle is visible while
using the device.
The Genteel Lancing Device Pack* is
available at an introductory price of £98.95
(diabetics can reclaim the VAT during
checkout, bringing the price down to
£82.46, with free delivery). Pack contains
one device (available in 8 colours), six
contact tips, two nozzles, a travel case,
a belt holding clip, stickers for decoration
and a pack of butterfly lancets.
ALL ORDERS OVER £20
USE CODE DESANG2018
ALSO CLAIM VAT BACK
AT CHECKOUT.
10% OFF