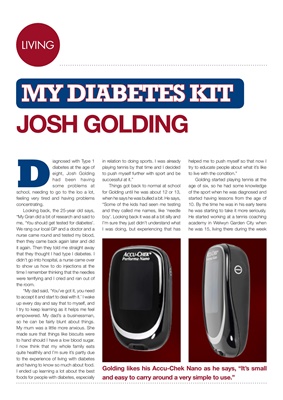 LIVINGLIVING
MY DIABETES KIT
Diagnosed with Type 1
diabetes at the age of
eight, Josh Golding
had been having
some problems at
school, needing to go to the loo a lot,
feeling very tired and having problems
concentrating.
Looking back, the 25-year old says,
"My Gran did a bit of research and said to
me, 'You should get tested for diabetes'.
We rang our local GP and a doctor and a
nurse came round and tested my blood,
then they came back again later and did
it again. Then they told me straight away
that they thought I had type I diabetes. I
didn't go into hospital, a nurse came over
to show us how to do injections at the
time I remember thinking that the needles
were terrifying and I cried and ran out of
the room.
"My dad said, 'You've got it, you need
to accept it and start to deal with it.' I wake
up every day and say that to myself, and
I try to keep learning as it helps me feel
empowered. My dad's a businessman,
so he can be fairly blunt about things.
My mum was a little more anxious. She
made sure that things like biscuits were
to hand should I have a low blood sugar.
I now think that my whole family eats
quite healthily and I'm sure it's partly due
to the experience of living with diabetes
and having to know so much about food.
I ended up learning a lot about the best
foods for people with diabetes, especially
JOSH GOLDING
in relation to doing sports. I was already
playing tennis by that time and I decided
to push myself further with sport and be
successful at it."
Things got back to normal at school
for Golding until he was about 12 or 13,
when he says he was bullied a bit. He says,
"Some of the kids had seen me testing
and they called me names, like 'needle
boy'. Looking back it was all a bit silly and
I'm sure they just didn't understand what
I was doing, but experiencing that has
helped me to push myself so that now I
try to educate people about what it's like
to live with the condition."
Golding started playing tennis at the
age of six, so he had some knowledge
of the sport when he was diagnosed and
started having lessons from the age of
10. By the time he was in his early teens
he was starting to take it more seriously.
He started working at a tennis coaching
academy in Welwyn Garden City when
he was 15, living there during the week
Golding likes his Nano as he says, "It's small and easy to
carry around a very simple to use."