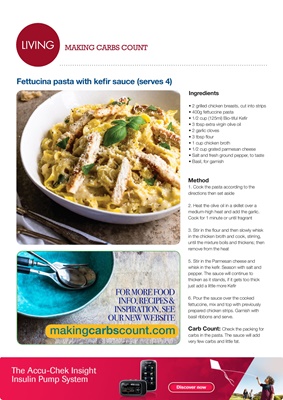 LIVINGLIVING
Fettucina pasta with kefir sauce (serves 4)
Ingredients
• 2 grilled chicken breasts, cut into strips
• 400g fettuccine pasta
• 1/2 cup (125ml) Bio-tiful Kefir
• 3 tbsp extra virgin olive oil
• 2 garlic cloves
• 3 tbsp flour
• 1 cup chicken broth
• 1/2 cup grated parmesan cheese
• Salt and fresh ground pepper, to taste
• Basil, for garnish
MAKING CARBS COUNT
Method
1. Cook the pasta according to the
directions then set aside
2. Heat the olive oil in a skillet over a
medium-high heat and add the garlic.
Cook for 1 minute or until fragrant
3. Stir in the flour and then slowly whisk
in the chicken broth and cook, stirring,
until the mixture boils and thickens; then
remove from the heat
5. Stir in the Parmesan cheese and
whisk in the kefir. Season with salt and
pepper. The sauce will continue to
thicken as it stands, if it gets too thick
just add a little more Kefir
6. Pour the sauce over the cooked
fettuccine, mix and top with previously
prepared chicken strips. Garnish with
basil ribbons and serve.
Carb Count: Check the packing for
carbs in the pasta. The sauce will add
very few carbs and little fat.
FOR MORE FOOD
INFO, RECIPES &
INSPIRATION, SEE
OUR NEW WEBSITE
makingcarbscount.com