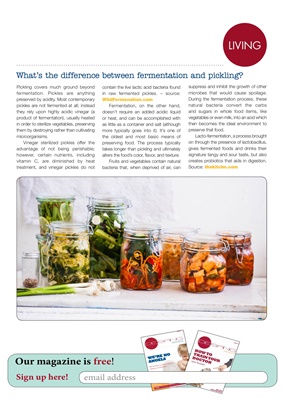 KITLIVING
Pickling covers much ground beyond
fermentation. Pickles are anything
preserved by acidity. Most contemporary
pickles are not fermented at all; instead
they rely upon highly acidic vinegar (a
product of fermentation), usually heated
in order to sterilize vegetables, preserving
them by destroying rather than cultivating
microorganisms.
Vinegar sterilized pickles offer the
advantage of not being perishable;
however, certain nutrients, including
vitamin C, are diminished by heat
treatment, and vinegar pickles do not
What's the difference between fermentation and pickling?
contain the live lactic acid bacteria found
in raw fermented pickles. - source:
WildFermenation.com
Fermentation, on the other hand,
doesn't require an added acidic liquid
or heat, and can be accomplished with
as little as a container and salt (although
more typically goes into it). It's one of
the oldest and most basic means of
preserving food. The process typically
takes longer than pickling and ultimately
alters the food's color, flavor, and texture.
Fruits and vegetables contain natural
bacteria that, when deprived of air, can
ISSUE 30
MAGAZINE
DESANG
PLUS • New Products • Groovy giveaways • News (for T1 and T2)
WE'RE NO
ANGELS
But business as usual is best for
diabetics at Christmas
MAKING
CARBS COUNT:
CHESTNUTS ROASTING
ON OPEN FIRES
Our magazine is free!
Sign up here! email address
suppress and inhibit the growth of other
microbes that would cause spoilage.
During the fermentation process, these
natural bacteria convert the carbs
and sugars in whole food items, like
vegetables or even milk, into an acid which
then becomes the ideal environment to
preserve that food.
Lacto-fermentation, a process brought
on through the presence of lactobacillus,
gives fermented foods and drinks their
signature tangy and sour taste, but also
creates probiotics that aids in digestion.
Source: thekitchn.com