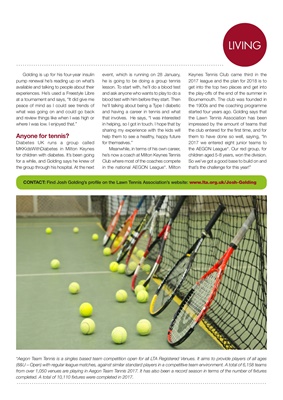 KITLIVING
*Aegon Team Tennis is a singles based team competition open for all LTA Registered Venues. It aims to provide players of all ages
(8&U - Open) with regular league matches, against similar standard players in a competitive team environment. A total of 6,158 teams
from over 1,050 venues are playing in Aegon Team Tennis 2017. It has also been a record season in terms of the number of fixtures
completed. A total of 10,110 fixtures were completed in 2017.
Golding is up for his four-year insulin
pump renewal he's reading up on what's
available and talking to people about their
experiences. He's used a Freestyle Libre
at a tournament and says, "It did give me
peace of mind as I could see trends of
what was going on and could go back
and review things like when I was high or
where I was low. I enjoyed that."
Anyone for tennis?
Diabetes UK runs a group called
MKKidsWithDiabetes in Milton Keynes
for children with diabetes. It's been going
for a while, and Golding says he knew of
the group through his hospital. At the next
CONTACT: Find Josh Golding's profile on the Lawn Tennis Association's website: www.lta.org.uk/josh-golding
event, which is running on 28 January,
he is going to be doing a group tennis
lesson. To start with, he'll do a blood test
and ask anyone who wants to play to do a
blood test with him before they start. Then
he'll talking about being a Type I diabetic
and having a career in tennis and what
that involves. He says, "I was interested
in helping, so I got in touch. I hope that by
sharing my experience with the kids will
help them to see a healthy, happy future
for themselves."
Meanwhile, in terms of his own career,
he's now a coach at Milton Keynes Tennis
Club where most of the coaches compete
in the national AEGON League*. Milton
Keynes Tennis Club came third in the
2017 league and the plan for 2018 is to
get into the top two places and get into
the play-offs of the end of the summer in
Bournemouth. The club was founded in
the 1900s and the coaching programme
started four years ago. Golding says that
the Lawn Tennis Association has been
impressed by the amount of teams that
the club entered for the first time, and for
them to have done so well, saying, "In
2017 we entered eight junior teams to
the AEGON League*. Our red group, for
children aged 5-8 years, won the division.
So we've got a good base to build on and
that's the challenge for this year!"