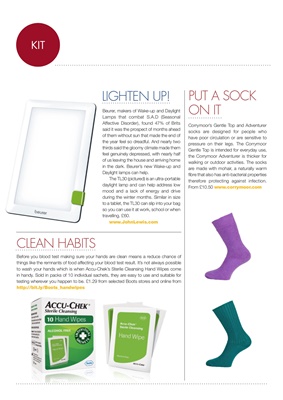 KIT
CLEAN HABITS
Before you blood test making sure your hands are clean means a reduce chance of
things like the remnants of food affecting your blood test result. It's not always possible
to wash your hands which is when Accu-Chek's Sterile Cleansing Hand Wipes come
in handy. Sold in packs of 10 individual sachets, they are easy to use and suitable for
testing wherever you happen to be. £1.29 from selected Boots stores and online from
LIGHTEN UP!
Beurer, makers of Wake-up and Daylight
Lamps that combat S.A.D (Seasonal
Affective Disorder), found 47% of Brits
said it was the prospect of months ahead
of them without sun that made the end of
the year feel so dreadful. And nearly two
thirds said the gloomy climate made them
feel genuinely depressed, with nearly half
of us leaving the house and arriving home
in the dark. Beurer's new Wake-up and
Daylight lamps can help.
The TL30 (pictured) is an ultra-portable
daylight lamp and can help address low
mood and a lack of energy and drive
during the winter months. Similar in size
to a tablet, the TL30 can slip into your bag
so you can use it at work, school or when
travelling. £60.
Corrymoor's Gentle Top and Adventurer
socks are designed for people who
have poor circulation or are sensitive to
pressure on their legs. The Corrymoor
Gentle Top is intended for everyday use,
the Corrymoor Adventurer is thicker for
walking or outdoor activities. The socks
are made with mohair, a naturally warm
fibre that also has anti-bacterial properties
therefore protecting against infection.
From £10.50 www.corrymoor.com
PUT A SOCK
ON IT