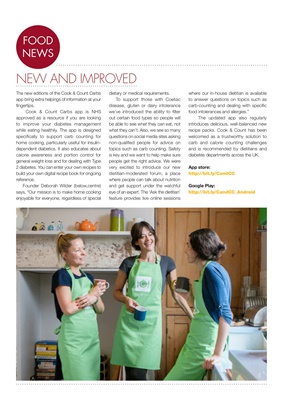 FOOD
NEWS
NEW AND IMPROVED
The new editions of the Cook & Count Carbs
app bring extra helpings of information at your
fingertips.
Cook & Count Carbs app is NHS
approved as a resource if you are looking
to improve your diabetes management
while eating healthily. The app is designed
specifically to support carb counting for
home cooking, particularly useful for insulindependent diabetics. It also educates about
calorie awareness and portion control for
general weight loss and for dealing with Type
2 diabetes. You can enter your own recipes to
build your own digital recipe book for ongoing
reference.
Founder Deborah Wilder (below,centre)
says, "Our mission is to make home cooking
enjoyable for everyone, regardless of special
dietary or medical requirements.
To support those with Coeliac
disease, gluten or dairy intolerance
we've introduced the ability to filter
out certain food types so people will
be able to see what they can eat, not
what they can't. Also, we see so many
questions on social media sites asking
non-qualified people for advice on
topics such as carb counting. Safety
is key and we want to help make sure
people get the right advice. We were
very excited to introduce our new
dietitian-moderated forum, a place
where people can talk about nutrition
and get support under the watchful
eye of an expert. The 'Ask the dietitian'
feature provides live online sessions
where our in-house dietitian is available
to answer questions on topics such as
carb-counting and dealing with specific
food intolerances and allergies."
The updated app also regularly
introduces delicious, well-balanced new
recipe packs. Cook & Count has been
welcomed as a trustworthy solution to
carb and calorie counting challenges
and is recommended by dietitians and
diabetes departments across the UK.
App store:
Google Play: