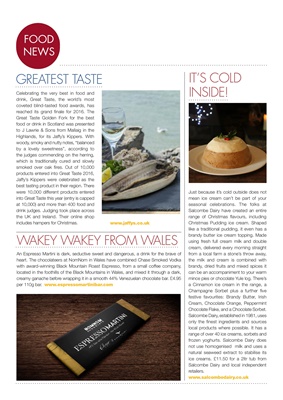 LIVINGLIVING
FOOD
NEWS
GREATEST TASTE
WAKEY WAKEY FROM WALES IT'S COLD
INSIDE!
Just because it's cold outside does not
mean ice cream can't be part of your
seasonal celebrations. The folks at
Salcombe Dairy have created an entire
range of Christmas flavours, including
Christmas Pudding ice cream. Shaped
like a traditional pudding, it even has a
brandy butter ice cream topping. Made
using fresh full cream milk and double
cream, delivered every morning straight
from a local farm a stone's throw away,
the milk and cream is combined with
brandy, dried fruits and mixed spices it
can be an accompaniment to your warm
mince pies or chocolate Yule log. There's
a Cinnamon ice cream in the range, a
Champagne Sorbet plus a further five
festive favourites: Brandy Butter, Irish
Cream, Chocolate Orange, Peppermint
Chocolate Flake, and a Chocolate Sorbet.
Salcombe Dairy, established in 1981, uses
only the finest ingredients and sources
local products where possible. It has a
range of over 40 ice creams, sorbets and
frozen yoghurts. Salcombe Dairy does
not use homogenised milk and uses a
natural seaweed extract to stabilise its
ice creams. £11.50 for a 2ltr tub from
Salcombe Dairy and local independent
retailers.
An Espresso Martini is dark, seductive sweet and dangerous, a drink for the brave of
heart. The chocolateers at NomNom in Wales have combined Chase Smoked Vodka
with award-winning Black Mountain Roast Espresso, from a small coffee company,
located in the foothills of the Black Mountains in Wales, and mixed it through a dark,
creamy ganache before wrapping it in a smooth 44% Venezuelan chocolate bar. £4.95
per 110g bar. www.espressomartinibar.com
Celebrating the very best in food and
drink, Great Taste, the world's most
coveted blind-tasted food awards, has
reached its grand finale for 2016. The
Great Taste Golden Fork for the best
food or drink in Scotland was presented
to J Lawrie & Sons from Mallaig in the
Highlands, for its Jaffy's Kippers. With
woody, smoky and nutty notes, "balanced
by a lovely sweetness", according to
the judges commending on the herring,
which is traditionally cured and slowly
smoked over oak fires. Out of 10,000
products entered into Great Taste 2016,
Jaffy's Kippers were celebrated as the
best tasting product in their region. There
were 10,000 different products entered
into Great Taste this year (entry is capped
at 10,000) and more than 400 food and
drink judges. Judging took place across
the UK and Ireland. Their online shop
includes hampers for Christmas.