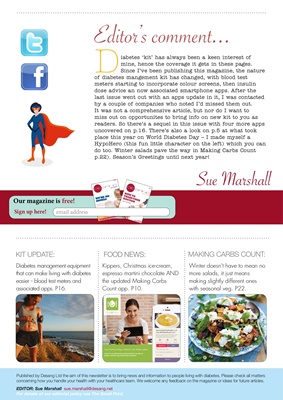 Published by Desang Ltd the aim of this newsletter is to bring news and information to people living with diabetes. Please check all matters
concerning how you handle your health with your healthcare team. We welcome any feedback on the magazine or ideas for future articles.
EDITOR: Sue Marshall sue.marshall@desang.net
For details of our editorial policy see The Small Print.
Kippers, Christmas ice-cream,
espresso martini chocolate AND
the updated Making Carbs
Count app. P10.
Sue Marshall
KIT UPDATE:
Diabetes management equipment
that can make living with diabetes
easier -- blood test meters and
associated apps. P16. Diabetes 'kit' has always been a keen interest of
mine, hence the coverage it gets in these pages.
Since I've been publishing this magazine, the
nature of diabetes mangement kit has changed, with blood
test meters starting to incorporate colour screens, then
insulin dose advice an now associated smartphone apps.
After the last issue went out with an apps update in it, I was
contacted by a couple of companies who noted I'd missed
them out. It was not a comprehensive article, but nor do I
want to miss out on opportunites to bring info on new kit
to you as readers. So there's a sequel in this issue
with four more apps uncovered on p.16. There's also
a look on p.5 at what took place this year on World
Diabetes Day - I made myself a HypoHero (this fun
little character to the right) which you can do too.
Winter salads pave the way in Making Carbs Count
p.22). Season's Greetings until next year!
Editor's comment...
ISSUE 30
MAGAZINE
DESANG
PLUS • New Products • Groovy giveaways • News (for T1 and T2)
WE'RE NO
ANGELS
But business as usual is best for
diabetics at Christmas
MAKING
CARBS COUNT:
CHESTNUTS ROASTING
ON OPEN FIRES
Our magazine is free!
Sign up here! email address
MAKING CARBS COUNT:
Winter doesn't have to mean no
more salads, it just means
making slightly different ones
with seasonal veg. P22.
FOOD NEWS: