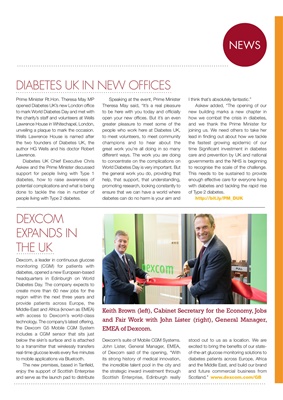 NEWS
DIABETES UK IN NEW OFFICES
Prime Minister Rt.Hon. Theresa May MP
opened Diabetes UK's new London office
to mark World Diabetes Day and met with
the charity's staff and volunteers at Wells
Lawrence House in Whitechapel, London,
unveiling a plaque to mark the occasion.
Wells Lawrence House is named after
the two founders of Diabetes UK, the
author HG Wells and his doctor Robert
Lawrence.
Diabetes UK Chief Executive Chris
Askew and the Prime Minister discussed
support for people living with Type 1
diabetes, how to raise awareness of
potential complications and what is being
done to tackle the rise in number of
people living with Type 2 diabetes.
Speaking at the event, Prime Minister
Theresa May said, "It's a real pleasure
to be here with you today and officially
open your new offices. But it's an even
greater pleasure to meet some of the
people who work here at Diabetes UK,
to meet volunteers, to meet community
champions and to hear about the
great work you're all doing in so many
different ways. The work you are doing
to concentrate on the complications on
World Diabetes Day is very important. But
the general work you do, providing that
help, that support, that understanding,
promoting research, looking constantly to
ensure that we can have a world where
diabetes can do no harm is your aim and
I think that's absolutely fantastic."
Askew added, "The opening of our
new building marks a new chapter in
how we combat the crisis in diabetes,
and we thank the Prime Minister for
joining us. We need others to take her
lead in finding out about how we tackle
the fastest growing epidemic of our
time Significant investment in diabetes
care and prevention by UK and national
governments and the NHS is beginning
to recognise the scale of the challenge.
This needs to be sustained to provide
enough effective care for everyone living
with diabetes and tackling the rapid rise
of Type 2 diabetes.
Dexcom, a leader in continuous glucose
monitoring (CGM) for patients with
diabetes, opened a new European-based
headquarters in Edinburgh on World
Diabetes Day. The company expects to
create more than 60 new jobs for the
region within the next three years and
provide patients across Europe, the
Middle-East and Africa (known as EMEA)
with access to Dexcom's world-class
technology. The company's latest offering,
the Dexcom G5 Mobile CGM System
includes a CGM sensor that sits just
below the skin's surface and is attached
to a transmitter that wirelessly transfers
real-time glucose levels every five minutes
to mobile applications via Bluetooth.
The new premises, based in Tanfield,
enjoy the support of Scottish Enterprise
and serve as the launch pad to distribute
Keith Brown (left), Cabinet Secretary for the Economy, Jobs
and Fair Work with John Lister (right), General Manager,
EMEA of Dexcom.
DEXCOM
EXPANDS IN
THE UK
Dexcom's suite of Mobile CGM Systems.
John Lister, General Manager, EMEA,
of Dexcom said of the opening, "With
its strong history of medical innovation,
the incredible talent pool in the city and
the strategic inward investment through
Scottish Enterprise, Edinburgh really
stood out to us as a location. We are
excited to bring the benefits of our stateof-the-art glucose monitoring solutions to
diabetes patients across Europe, Africa
and the Middle East, and build our brand
and future commercial business from
Scotland." www.dexcom.com/gb