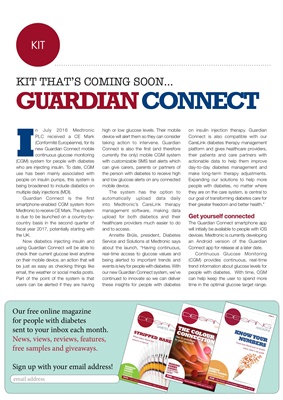 KIT
In July 2016 Medtronic
PLC received a CE Mark
(Conformité Européenne), for its
new Guardian Connect mobile
continuous glucose monitoring
(CGM) system for people with diabetes
who are injecting insulin. To date, CGM
use has been mainly associated with
people on insulin pumps, this system is
being broadened to include diabetics on
multiple daily injections (MDI).
Guardian Connect is the first
smartphone-enabled CGM system from
Medtronic to receive CE Mark. The system
is due to be launched on a country-bycountry
basis in the second quarter of
fiscal year 2017, potentially starting with
the UK.
Now diabetics injecting insulin and
using Guardian Connect will be able to
check their current glucose level anytime
on their mobile device, an action that will
be just as easy as checking things like
email, the weather or social media posts.
Part of the point of the system is that
users can be alerted if they are having
KIT THAT'S COMING SOON...
GUARDIAN CONNECT
high or low glucose levels. Their mobile
device will alert them so they can consider
taking action to intervene. Guardian
Connect is also the first (and therefore
currently the only) mobile CGM system
with customizable SMS text alerts which
can give carers, parents or partners of
the person with diabetes to receive high
and low glucose alerts on any connected
mobile device.
The system has the option to
automatically upload data daily
into Medtronic's CareLink therapy
management software, making data
upload for both diabetics and their
healthcare providers much easier to do
and to access.
Annette Brüls, president, Diabetes
Service and Solutions at Medtronic says
about the launch, "Having continuous,
real-time access to glucose values and
being alerted to important trends and
events is key for people with diabetes. With
our new Guardian Connect system, we've
continued to innovate so we can deliver
these insights for people with diabetes
on insulin injection therapy. Guardian
Connect is also compatible with our
CareLink diabetes therapy management
platform and gives healthcare providers,
their patients and care partners with
actionable data to help them improve
day-to-day diabetes management and
make long-term therapy adjustments.
Expanding our solutions to help more
people with diabetes, no matter where
they are on the care system, is central to
our goal of transforming diabetes care for
their greater freedom and better health."
Get yourself connected
The Guardian Connect smartphone app
will initially be available to people with iOS
devices. Medtronic is currently developing
an Android version of the Guardian
Connect app for release at a later date.
Continuous Glucose Monitoring
(CGM) provides continuous, real-time
trend information about glucose levels for
people with diabetes. With time, CGM
can help keep the user to spend more
time in the optimal glucose target range.
Our free online magazine
for people with diabetes
sent to your inbox each month.
News, views, reviews, features,
free samples and giveaways.
Sign up with your email address!
email address