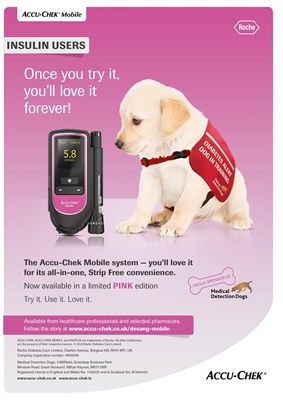 Once you try it,
you'll love it
forever!
ACCU-CHEK, ACCU-CHEK MOBILE, and FASTCLIX are trademarks of Roche. All other trademarks
are the property of their respective owners. © 2016 Roche Diabetes Care Limited.
Roche Diabetes Care Limited, Charles Avenue, Burgess Hill, RH15 9RY, UK.
Company registration number: 9055599
Medical Detection Dogs, 3 Millfi eld, Greenway Business Park,
Winslow Road, Great Horwood, Milton Keynes, MK17 0NP.
Registered charity in England and Wales No. 1124533 and in Scotland No. SC044434
www.accu-chek.co.uk www.accu-chek.ie
INSULIN USERS
Available from healthcare professionals and selected pharmacies.
Follow the story at www.accu-chek.co.uk/desang-mobile
The Accu-Chek Mobile system - you'll love it
for its all-in-one, Strip Free convenience.
Now available in a limited PINK edition
Try it. Use it. Love it.
PROUD SPONSOR OF