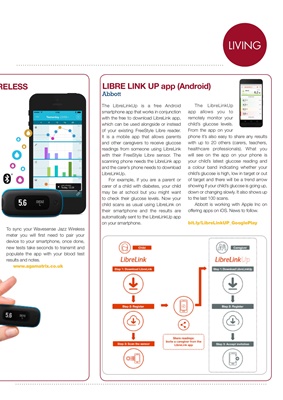 KITLIVING
LIBRE LINK UP app (Android)
Abbott
ELESS
The LibreLinkUp is a free Android
smartphone app that works in conjunction
with the free to download LibreLink app,
which can be used alongside or instead
of your existing FreeStyle Libre reader.
It is a mobile app that allows parents
and other caregivers to receive glucose
readings from someone using LibreLink
with their FreeStyle Libre sensor. The
scanning phone needs the LibreLink app
and the carer's phone needs to download
LibreLinkUp.
For example, if you are a parent or
carer of a child with diabetes, your child
may be at school but you might want
to check their glucose levels. Now your
child scans as usual using LibreLink on
their smartphone and the results are
automatically sent to the LibreLinkUp app
on your smartphone.
The LibreLinkUp
app allows you to
remotely monitor your
child's glucose levels.
From the app on your
phone it's also easy to share any results
with up to 20 others (carers, teachers,
healthcare professionals). What you
will see on the app on your phone is
your child's latest glucose reading and
a colour band indicating whether your
child's glucose is high, low in target or out
of target and there will be a trend arrow
showing if your child's glucose is going up,
down or changing slowly. It also shows up
to the last 100 scans.
Abbott is working with Apple Inc on
offering apps on iOS. News to follow.
bit.ly/LibreLinkUP_GooglePlay
To sync your Wavesense Jazz Wireless
meter you will first need to pair your
device to your smartphone, once done,
new tests take seconds to transmit and
populate the app with your blood test
results and notes.