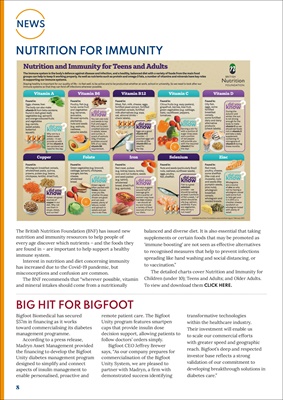 8
NEWS
The British Nutrition Foundation (BNF) has issued new
nutrition and immunity resources to help people of
every age discover which nutrients - and the foods they
are found in - are important to help support a healthy
immune system.
Interest in nutrition and diet concerning immunity
has increased due to the Covid-19 pandemic, but
misconceptions and confusion are common.
The BNF recommends that "wherever possible, vitamin
and mineral intakes should come from a nutritionally
balanced and diverse diet. It is also essential that taking
supplements or certain foods that may be promoted as
'immune boosting' are not seen as effective alternatives
to recognised measures that help to prevent infections
spreading like hand washing and social distancing, or
to vaccination."
The detailed charts cover Nutrition and Immunity for
Children (under 10); Teens and Adults; and Older Adults.
To view and download them CLICK HERE.
BIG HIT FOR BIGFOOT
Bigfoot Biomedical has secured
$57m in financing as it works
toward commercialising its diabetes
management programme.
According to a press release,
Madryn Asset Management provided
the financing to develop the Bigfoot
Unity diabetes management program
designed to simplify and connect
aspects of insulin management to
enable personalised, proactive and
remote patient care. The Bigfoot
Unity program features smartpen
caps that provide insulin dose
decision support, allowing patients to
follow doctors' orders simply.
Bigfoot CEO Jeffrey Brewer
says, "As our company prepares for
commercialisation of the Bigfoot
Unity System, we are pleased to
partner with Madryn, a firm with
demonstrated success identifying
transformative technologies
within the healthcare industry.
Their investment will enable us
to scale our commercial efforts
with greater speed and geographic
reach. Bigfoot's deep and respected
investor base reflects a strong
validation of our commitment to
developing breakthrough solutions in
diabetes care."
NUTRITION FOR IMMUNITY