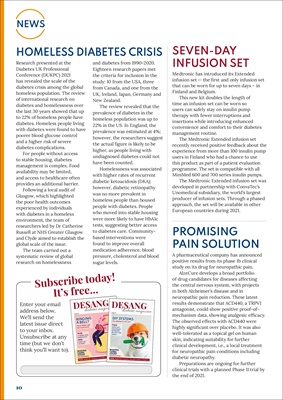 10
NEWS
PROMISING
PAIN SOLUTION
A pharmaceutical company has announced
positive results from its phase Ib clinical
study on its drug for neuropathic pain.
AlzeCure develops a broad portfolio
of drug candidates for diseases affecting
the central nervous system, with projects
in both Alzheimer's disease and in
neuropathic pain reduction. These latest
results demonstrate that ACD440, a TRPV1
antagonist, could show positive proof-ofmechanism
data, showing analgesic efficacy.
The observed effects with ACD440 were
highly significant over placebo. It was also
well-tolerated as a topical gel on human
skin, indicating suitability for further
clinical development, i.e., a local treatment
for neuropathic pain conditions including
diabetic neuropathy.
Preparations are ongoing for further
clinical trials with a planned Phase II trial by
the end of 2021.
HOMELESS DIABETES CRISIS
Research presented at the
Diabetes UK Professional
Conference (DUKPC) 2021
has revealed the scale of the
diabetes crisis among the global
homeless population. The review
of international research on
diabetes and homelessness over
the last 30 years showed that up
to 22% of homeless people have
diabetes. Homeless people living
with diabetes were found to have
poorer blood glucose control
and a higher risk of severe
diabetes complications.
For people without access
to stable housing, diabetes
management is complex. Food
availability may be limited,
and access to healthcare often
provides an additional barrier.
Following a local audit of
Glasgow, which highlighted
the poor health outcomes
experienced by individuals
with diabetes in a homeless
environment, the team of
researchers led by Dr Catherine
Russell at NHS Greater Glasgow
and Clyde aimed to establish the
global scale of the issue.
The team carried out a
systematic review of global
research on homelessness
and diabetes from 1990-2020.
Eighteen research papers met
the criteria for inclusion in the
study: 10 from the USA, three
from Canada, and one from the
UK, Ireland, Japan, Germany and
New Zealand.
The review revealed that the
prevalence of diabetes in the
homeless population was up to
22% in the US. In England, the
prevalence was estimated at 4%;
however, the researchers suggest
the actual figure is likely to be
higher, as people living with
undiagnosed diabetes could not
have been counted.
Homelessness was associated
with higher rates of recurrent
diabetic ketoacidosis (DKA);
however, diabetic retinopathy
was no more prevalent in
homeless people than housed
people with diabetes. People
who moved into stable housing
were more likely to have HbA1c
tests, suggesting better access
to diabetes care. Communitybased
interventions were
found to improve overall
medication adherence, blood
pressure, cholesterol and blood
sugar levels.
SEVEN-DAY
INFUSION SET
Medtronic has introduced its Extended
infusion set - the first and only infusion set
that can be worn for up to seven days - in
Finland and Belgium.
This new kit doubles the length of
time an infusion set can be worn so
users can safely stay on insulin pump
therapy with fewer interruptions and
insertions while introducing enhanced
convenience and comfort to their diabetes
management routine.
The Medtronic Extended infusion set
recently received positive feedback about the
experience from more than 100 insulin pump
users in Finland who had a chance to use
this product as part of a patient evaluation
programme. The set is compatible with all
MiniMed 600 and 700 series insulin pumps.
The Medtronic Extended infusion set was
developed in partnership with ConvaTec's
Unomedical subsidiary, the world's largest
producer of infusion sets. Through a phased
approach, the set will be available in other
European countries during 2021.
ch.
ed
as'
ray
ns
to
ne,
ine
es
a
are
IDent
tch
ine
se
lar
AP
her
the
ide
be
he
nal
ng
es.
in
oC
se
his
se,
the
tch
the
out
es.
e'll
en
to
ght
en
wo.
ed,
we then take a six-minute rest (which
again is adaptable) and once recovered,
we repeat the circuit all over again."
Stephenson-Grey took part in the
London 2012 Olympics Games torch
relay and still trains (prior to lockdown) at
the track and in the gym. The exercises
she does include standing squats, pressups, the
plank, lunges, the superman
pose (when the opposite arm and leg are
stretched out) and sit ups.
She says, "This type of fitness session
is inspired by the type of session I've often
done with my training group over the
years, particularly at the start of the winter
or summer training season, as it helps
build strength and fitness as a foundation
to move onto other things. It works the
arms, legs and core areas throughout
the session, which can be helpful when
training a lot, because no one area is
necessarily over-worked or strained."
The home workout videos have been
accepted by many in the community.
She adds, "I'm sharing what training
sessions work for me. Please remember
that you know your own fitness, health
and diabetes best. Seek medical advice
if you are concerned about undertaking
physical activity."
Home workouts with Mel Stephenson-Grey of Life Sport Diabetes.
www. lifesportdiabetes.co.uk
ISSUE 88
DIABETES MAGAZINE
DESANG
MAKING
CARBS
COUNT:
SWEET POTATO
PLUS • Diabetes kit • Giveaways • News (for T1 and T2) • Food News
Access to blood test strips
and meters: your choice
PLUS:
Screen Time
(part 2): meters
Subscribe today!
Enter your email
address below.
We'll send the
latest issue direct
to your inbox.
Unsubscribe at any
time (but we don't
think you'll want to).
It's free...
Subscribe today!
It's free...
Enter your email
address below.
We'll send the
latest issue direct
to your inbox.
Unsubscribe at any
time (but we don't
think you'll want to). ISSUE 120
MAKING
CARBS
COUNT
EAT YOUR GREENS!
PLUS Diabetes kit • Giveaways • News (for T1 and T2) • Food News
RINGING
A BELL?
Alarm fatigue and
how to prevent it
PLUS
An update on the
MiniMed 780G
AND
Explore our
'new look'!
ISSUE 119
MAKING
CARBS
COUNT
LUSCIOUS LYCHEES
PLUS Diabetes kit • Giveaways • News (for T1 and T2) • Food News
DIY SYSTEMS
The ultimate in self-care?
PLUS
Roche's new
meter launch:
introducing
the Accu-Chek
Instant