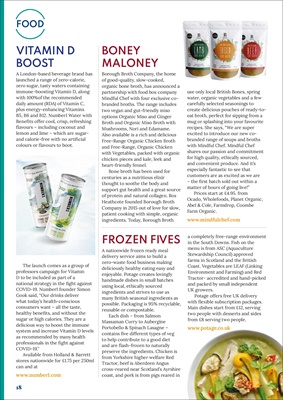 18
FOOD
VITAMIN D
BOOST
A London-based beverage brand has
launched a range of zero-calorie,
zero sugar, tasty waters containing
immune-boosting Vitamin D, along
with 100%of the recommended
daily amount (RDA) of Vitamin C,
plus energy-enhancing Vitamins
B5, B6 and B12. Number1 Water with
Benefits offer cool, crisp, refreshing
flavours - including coconut and
lemon and lime - which are sugar-
and calorie-free with no artificial
colours or flavours to boot.
BONEY
MALONEY
Borough Broth Company, the home
of good-quality, slow-cooked,
organic bone broth, has announced a
partnership with food box company
Mindful Chef with four exclusive cobranded
broths. The range includes
two vegan and gut-friendly miso
options Organic Miso and Ginger
Broth and Organic Miso Broth with
Mushrooms, Nori and Edamame.
Also available is a rich and delicious
Free-Range Organic Chicken Broth
and Free-Range, Organic Chicken
with Vegetables, packed with organic
chicken pieces and kale, leek and
heart-friendly fennel.
Bone broth has been used for
centuries as a nutritious elixir
thought to soothe the body and
support gut health and a great source
of protein and natural collagen. Ros
Heathcote founded Borough Broth
Company in 2015 out of love for slow,
patient cooking with simple, organic
ingredients. Today, Borough Broth
use only local British Bones, spring
water, organic vegetables and a few
carefully selected seasonings to
create delicious pouches of ready-toeat
broth, perfect for sipping from a
mug or splashing into your favourite
recipes. She says, "We are super
excited to introduce our new cobranded
range of soups and broths
with Mindful Chef. Mindful Chef
shares our passion and commitment
for high quality, ethically sourced,
and convenient produce. And it's
especially fantastic to see that
customers are as excited as we are
- the first batch sold out within a
matter of hours of going live!"
Prices start at £4.95. from
Ocado, Wholefoods, Planet Organic,
Abel & Cole, Farmdrop, Coombe
Farm Organic.
FROZEN FIVES
A nationwide frozen ready meal
delivery service aims to build a
zero-waste food business making
deliciously healthy eating easy and
enjoyable. Potage creates lovingly
handmade dishes in small batches
using local, ethically sourced
ingredients and strives to use as
many British seasonal ingredients as
possible. Packaging is 95% recyclable,
reusable or compostable.
Each dish - from Salmon
Massaman Curry to Aubergine
Portobello & Spinach Lasagne -
contains five different types of veg
to help contribute to a good diet
and are flash-frozen to naturally
preserve the ingredients. Chicken is
from Yorkshire higher welfare Red
Tractor, beef is Aberdeen Angus
cross-reared near Scotland's Ayrshire
coast, and pork is from pigs reared in
The launch comes as a group of
professors campaign for Vitamin
D to be included as part of a
national strategy in the fight against
COVID-19. Number1 founder Simon
Gook said, "Our drinks deliver
what today's health-conscious
consumers want - all the taste,
healthy benefits, and without the
sugar or high calories. They are a
delicious way to boost the immune
system and increase Vitamin D levels
as recommended by many health
professionals in the fight against
COVID-19."
Available from Holland & Barrett
stores nationwide for £1.75 per 250ml
can and at
a completely free-range environment
in the South Downs. Fish on the
menu is from ASC (Aquaculture
Stewardship Council) approved
farms in Scotland and the British
Coast. Vegetables are LEAF (Linking
Environment and Farming) and Red
Tractor- accredited and hand-picked
and packed by small independent
UK growers.
Potage offers free UK delivery
with flexible subscription packages.
Main dishes start from £12, serving
two people with desserts and sides
from £8 serving two people.