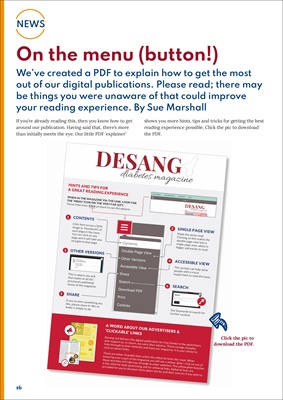 16
NEWS
On the menu (button!)
We've created a PDF to explain how to get the most
out of our digital publications. Please read; there may
be things you were unaware of that could improve
your reading experience. By Sue Marshall
If you're already reading this, then you know how to get
around our publication. Having said that, there's more
than initially meets the eye. Our little PDF 'explainer'
shows you more hints, tips and tricks for getting the best
reading experience possible. Click the pic to download
the PDF.
Click the pic to
download the PDF.
WHEN IN THE MAGAZINE VIA THE LINK, LOOK FOR
THE 'MENU' ICON ON THE VERY FAR LEFT:
Three little lines. Click on there to see the options.
HINTS AND TIPS FOR
A GREAT READING EXPERIENCE
Make the sense read:
Clicking on this makes the
double-page view into a
single page view, which is
bigger and easier to read.
SINGLE PAGE VIEW
2
This section can help some
people with a visual
impairment to read the issue.
ACCESSIBLE VIEW
4
Click here to see a little
image (a 'thumbnail') of
each page in the issue.
You can click on any
page and it will take you
straight to that page.
CONTENTS
1
This is where you will
find copies of all the
previously published
issues of the magazine.
OTHER VERSIONS
3
If you've seen something you
like, please share it! We've
made it simple to do.
SHARE
5
Use keywords to search for
further content.
SEARCH
6
Desang Ltd delivers this digital publication for free thanks to the advertisers
who support us. In return, we carry their adverts. These include clickable
links through to their websites and leave our magazine. It is your choice to
click on advert links.
There are other clickable links within the editorial items the issue. When
hovering over a part of the magazine you will see a yellow 'glow'; click on any of
these and they will take you through to other websites. The yellow glow function
is the same for both advertising and for editorial links. Editorial links are
provided for you to discover more about stories and their sources if you wish to.
A WORD ABOUT OUR ADVERTISERS &
'CLICKABLE' LINKS