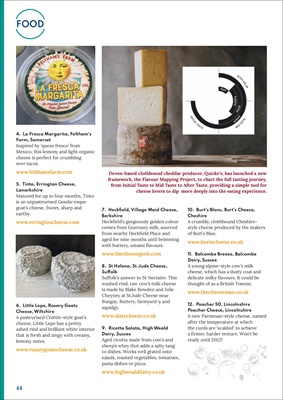 22
FOOD
4. La Fresca Margarita, Feltham's
Farm, Somerset
Inspired by 'queso fresco' from
Mexico, this lemony and light organic
cheese is perfect for crumbling
over tacos.
5. Tinto, Errington Cheese,
Lanarkshire
Matured for up to four months, Tinto
is an unpasteurised Gouda-esque
goat's cheese. Sweet, sharp and
earthy.
6. Little Lepe, Rosary Goats
Cheese, Wiltshire
A pasteurised Crottin-style goat's
cheese, Little Lepe has a pretty
ashed rind and brilliant white interior
that is fresh and zingy with creamy,
lemony notes.
7. Heckfield, Village Maid Cheese,
Berkshire
Heckfield's gorgeously golden colour
comes from Guernsey milk, sourced
from nearby Heckfield Place and
aged for nine months until brimming
with buttery, umami flavours.
8. St Helena, St.Jude Cheese,
Suffolk
Suffolk's answer to St Nectaire. This
washed rind, raw cow's milk cheese
is made by Blake Bowden and Julie
Cheyney at St.Jude Cheese near
Bungay. Buttery, farmyard-y and
squidgy.
9. Ricotta Salata, High Weald
Dairy, Sussex
Aged ricotta made from cow's and
sheep's whey that adds a salty tang
to dishes. Works well grated onto
salads, roasted vegetables, tomatoes,
pasta dishes or pizza.
10. Burt's Blanc, Burt's Cheese,
Cheshire
A crumbly, clothbound Cheshirestyle
cheese produced by the makers
of Burt's Blue.
11. Balcombe Breeze, Balcombe
Dairy, Sussex
A young alpine-style cow's milk
cheese, which has a dusty coat and
delicate milky flavours. It could be
thought of as a British Tomme.
12. Poacher 50, Lincolnshire
Poacher Cheese, Lincolnshire
A new Parmesan-style cheese, named
after the temperature at which
the curds are 'scalded' to achieve
a firmer, harder texture. Won't be
ready until 2022!
Devon-based clothbound cheddar producer, Quicke's, has launched a new
framework, the Flavour Mapping Project, to chart the full tasting journey,
from Initial Taste to Mid Taste to After Taste, providing a simple tool for
cheese lovers to dip more deeply into the eating experience.