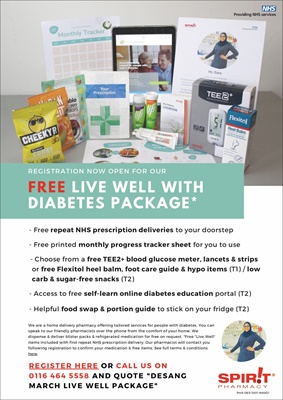 FREE LIVE WELL WITH
DIABETES PACKAGE*
REGISTER HERE OR CALL US ON
0116 464 5558 AND QUOTE "DESANG
MARCH LIVE WELL PACKAGE"
REGISTRATION NOW OPEN FOR OUR
- Choose from a free TEE2+ blood glucose meter, lancets & strips
or free Flexitol heel balm, foot care guide & hypo items (T1) / low
carb & sugar-free snacks (T2)
- Free repeat NHS prescription deliveries to your doorstep
- Free printed monthly progress tracker sheet for you to use
- Access to free self-learn online diabetes education portal (T2)
- Helpful food swap & portion guide to stick on your fridge (T2)
We are a home delivery pharmacy offering tailored services for people with diabetes. You can
speak to our friendly pharmacists over the phone from the comfort of your home. We
dispense & deliver blister packs & refrigerated medication for free on request. *Free "Live Well"
items included with first repeat NHS prescription delivery. Our pharmacist will contact you
following registration to confirm your medication & free items. See full terms & conditions
here.
PHA-DES-1001-MAR21