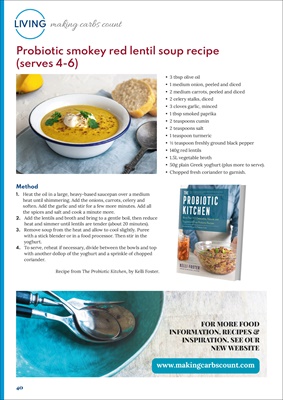 40
LIVING making carbs count
FOR MORE FOOD
INFORMATION, RECIPES &
INSPIRATION, SEE OUR
NEW WEBSITE
Probiotic smokey red lentil soup recipe
(serves 4-6)
• 3 tbsp olive oil
• 1 medium onion, peeled and diced
• 2 medium carrots, peeled and diced
• 2 celery stalks, diced
• 3 cloves garlic, minced
• 1 tbsp smoked paprika
• 2 teaspoons cumin
• 2 teaspoons salt
• 1 teaspoon turmeric
• ½ teaspoon freshly ground black pepper
• 140g red lentils
• 1.5L vegetable broth
• 50g plain Greek yoghurt (plus more to serve).
• Chopped fresh coriander to garnish.
Method
1. Heat the oil in a large, heavy-based saucepan over a medium
heat until shimmering. Add the onions, carrots, celery and
soften. Add the garlic and stir for a few more minutes. Add all
the spices and salt and cook a minute more.
2. Add the lentils and broth and bring to a gentle boil, then reduce
heat and simmer until lentils are tender (about 20 minutes).
3. Remove soup from the heat and allow to cool slightly. Puree
with a stick blender or in a food processor. Then stir in the
yoghurt.
4. To serve, reheat if necessary, divide between the bowls and top
with another dollop of the yoghurt and a sprinkle of chopped
coriander.
Recipe from The Probiotic Kitchen, by Kelli Foster.