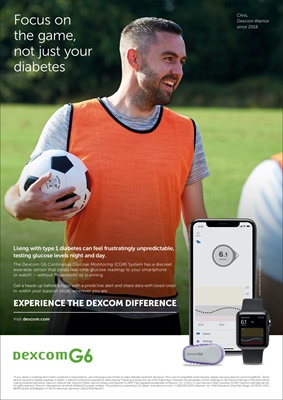 *If your alerts or readings don't match symptoms or expectations, use a blood glucose monitor to make diabetes treatment decisions. †For a list of compatible smart devices, please visit www.dexcom.com/compatibility. Smart
device required to display readings on watch. ‡ Internet connectivity required for data sharing. Following requires the use of the Follow App. Followers should always confirm readings on the Dexcom G6 App or Receiver before
making treatment decisions. Dexcom, Dexcom G6, Dexcom Follow, Dexcom Share, and Dexcom CLARITY are registered trademarks of Dexcom, Inc. in the U.S. and may be in other countries. © 2021 Dexcom International Ltd.
Allrightsreserved. DexcomInternationalLtd anditsaffiliated European entities.This productiscovered byU.S.patent. www.dexcom.com |+1.858.200.0200 |Dexcom,Inc. 6340Sequence Drive SanDiego,CA92121USA|
MDSS GmbH Schiffgraben 41 30175 Hannover, Germany. LBL021056 Rev001.
Chris,
Dexcom Warrior
since 2018
Focus on
the game,
not just your
diabetes
Living with type 1 diabetes can feel frustratingly unpredictable,
testing glucose levels night and day.
The Dexcom G6 Continuous Glucose Monitoring (CGM) System has a discreet
wearable sensor that sends real-time glucose readings to your smartphone
or watch† - without fingersticks* or scanning.
Get a heads up before a hypo with a predictive alert and share data with loved ones‡
to widen your support circle, wherever you are.
EXPERIENCE THE DEXCOM DIFFERENCE
Visit dexcom.com
Smart devices sold separately. †