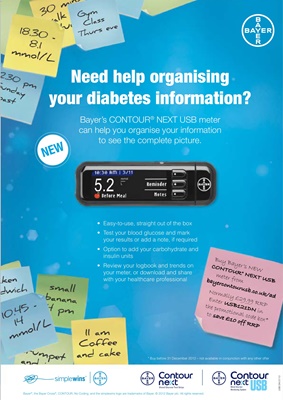 Need help organising
your diabetes information?
Bayer's Contour® next uSB meter
can help you organise your information
to see the complete picture.
NEW
• Easy-to-use, straight out of the box
• Test your blood glucose and mark
your results or add a note, if required
• Option to add your carbohydrate and
insulin units
Buy B
• Review your logbook and trends on Cont ayer 's NEW
ou
your meter, or download and share meter r® next
with your healthcare professional bayer from uSB
conto
urusb
Norm .co.uk
ally £ /ad
Enter 29.99
uSB1 RR
the pr
om 21Dn P
i
to sav otional cod n
e £10 e box*
off r
rP
* Buy before 31 December 2012 – not available in conjunction with any other offer
uSB Dn 07/12
Blood Glucose
Monitoring System
Bayer®, the Bayer Cross®, Contour, no Coding, and the simplewins logo are trademarks of Bayer. © 2012 Bayer plc. All rights reserved.