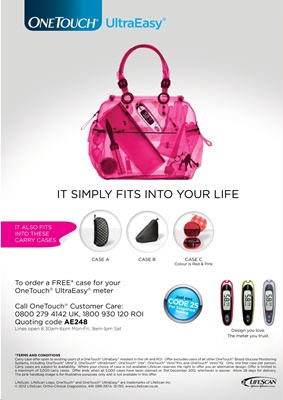 NEWS
IT SIMPLY FITS INTO YOUR LIFE
IT ALSO FITS
INTO THESE
CARRY CASES
CASE A CASE B CASE C
Colour is Red & Pink
To order a FREE* case for your
OneTouch® UltraEasy® meter
Call OneTouch® Customer Care:
0800 279 4142 UK, 1800 930 120 ROI
Quoting code AE248
Lines open 8.30am-6pm Mon-Fri, 9am-1pm Sat Design you love.
The meter you trust.
*TERMS AND CONDITIONS
Carry case offer open to existing users of a OneTouch® UltraEasy® resident in the UK and ROI. Offer excludes users of all other OneTouch® Blood Glucose Monitoring
Systems, including OneTouch® Ultra®2, OneTouch® UltraSmart®, OneTouch® Vita®, OneTouch® Verio®Pro and OneTouch® Verio®IQ. Only one free case per person.
Carry cases are subject to availability. Where your choice of case is not available LifeScan reserves the right to offer you an alternative design. Offer is limited to
a maximum of 5,000 carry cases. Offer ends when all 5,000 cases have been claimed or 31st December 2012, whichever is sooner. Allow 28 days for delivery.
The pink handbag image is for illustrative purposes only and is not available in this offer.
LifeScan, LifeScan Logo, OneTouch® and OneTouch® UltraEasy® are trademarks of LifeScan Inc.
© 2012 LifeScan, Ortho-Clinical Diagnostics. AW 099-397A. 12-150. www.LifeScan.co.uk