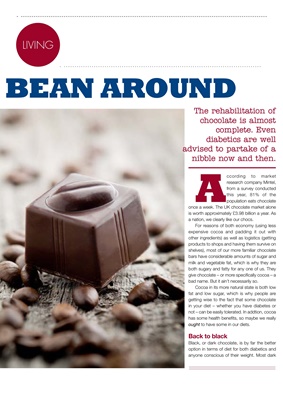 LIVING
bean aroUnd
The rehabilitation of
chocolate is almost
complete. Even
diabetics are well
advised to partake of a
nibble now and then.
a
ccording to market
research company Mintel,
from a survey conducted
this year, 81% of the
population eats chocolate
once a week. The UK chocolate market alone
is worth approximately £3.98 billion a year. As
a nation, we clearly like our chocs.
For reasons of both economy (using less
expensive cocoa and padding it out with
other ingredients) as well as logistics (getting
products to shops and having them survive on
shelves), most of our more familiar chocolate
bars have considerable amounts of sugar and
milk and vegetable fat, which is why they are
both sugary and fatty for any one of us. They
give chocolate – or more specifically cocoa – a
bad name. But it ain't necessarily so.
Cocoa in its more natural state is both low
fat and low sugar, which is why people are
getting wise to the fact that some chocolate
in your diet – whether you have diabetes or
not – can be easily tolerated. In addtion, cocoa
has some health benefits, so maybe we really
ought to have some in our diets.
Back to black
Black, or dark chocolate, is by far the better
option in terms of diet for both diabetics and
anyone conscious of their weight. Most dark