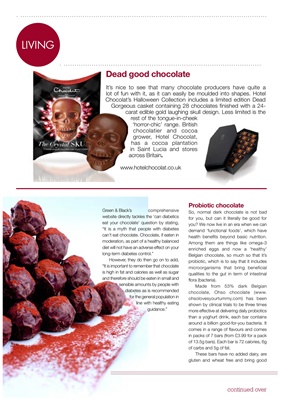 LIVING
Dead good chocolate
It's nice to see that many chocolate producers have quite a
lot of fun with it, as it can easily be moulded into shapes. Hotel
Chocolat's Halloween Collection includes a limited edition Dead
Gorgeous casket containing 28 chocolates finished with a 24-
carat edible gold laughing skull design. Less limited is the
rest of the tongue-in-cheek
'horror-chic' range. British
chocolatier and cocoa
grower, Hotel Chocolat,
has a cocoa plantation
in Saint Lucia and stores
across Britain.
www.hotelchocolat.co.uk
Probiotic chocolate
Green & Black's comprehensive So, normal dark chocolate is not bad
website directly tackles the 'can diabetics for you, but can it literally be good for
eat your chocolate' question by stating, you? We now live in an era when we can
"It is a myth that people with diabetes demand 'functional foods', which have
can't eat chocolate. Chocolate, if eaten in health benefits beyond basic nutrition.
moderation, as part of a healthy balanced Among them are things like omega-3
diet will not have an adverse effect on your enriched eggs and now a 'healthy'
long-term diabetes control." Belgian chocolate, so much so that it's
However, they do then go on to add, probiotic, which is to say that it includes
"It is important to remember that chocolate microorganisms that bring beneficial
is high in fat and calories as well as sugar qualities to the gut in term of intestinal
and therefore should be eaten in small and flora (bacteria).
sensible amounts by people with Made from 53% dark Belgian
diabetes as is recommended chocolate, Ohso chocolate (www.
for the general population in ohsolovesyourtummy.com) has been
line with healthy eating shown by clinical trials to be three times
guidance." more effective at delivering daily probiotics
than a yoghurt drink, each bar contains
around a billion good-for-you bacteria. It
comes in a range of flavours and comes
in packs of 7 bars (from £3.99 for a pack
of 13.5g bars). Each bar is 72 calories, 6g
of carbs and 5g of fat.
These bars have no added dairy, are
gluten and wheat free and bring good
continued over