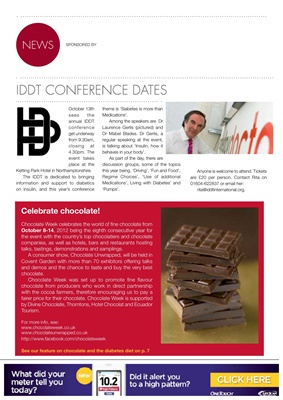 NEWS SPONSORED BY
IDDT CONFERENCE DATES
October 13th theme is 'Siabetes is more than
sees the Medications'.
annual IDDT Among the speakers are Dr
conference Laurence Gerlis (pictured) and
get underway Dr Mabel Blades. Dr Gerlis, a
from 9.30am, regular speaking at the event,
closing at is talking about 'Insulin, how it
4.30pm. The behaves in your body'.
event takes As part of the day, there are
place at the discussion groups, some of the topics
Ketting Park Hotel in Northamptonshire. this year being, 'Driving', 'Fun and Food', Anyone is welcome to attend. Tickets
The IDDT is dedicated to bringing Regime Choices', 'Use of additional are £20 per person. Contact Rita on
information and support to diabetics Medications', Living with Diabetes' and 01604-622837 or email her:
on insulin, and this year's conference 'Pumps'. rita@iddtinternational.org.
Celebrate chocolate!
Chocolate Week celebrates the world of fine chocolate from
October 8-14, 2012 being the eighth consecutive year for
the event with the country's top chocolatiers and chocolate
companies, as well as hotels, bars and restaurants hosting
talks, tastings, demonstrations and samplings.
A consumer show, Chocolate Unwrapped, will be held in
Covent Garden with more than 70 exhibitors offering talks
and demos and the chance to taste and buy the very best
chocolate.
Chocolate Week was set up to promote fine flavour
chocolate from producers who work in direct partnership
with the cocoa farmers, therefore encouraging us to pay a
fairer price for their chocolate. Chocolate Week is supported
by Divine Chocolate, Thorntons, Hotel Chocolat and Ecuador
Tourism.
For more info, see:
www.chocolateweek.co.uk
www.chocolateunwrapped.co.uk
http://www.facebook.com/chocolateweek
See our feature on chocolate and the diabetes diet on p. 7