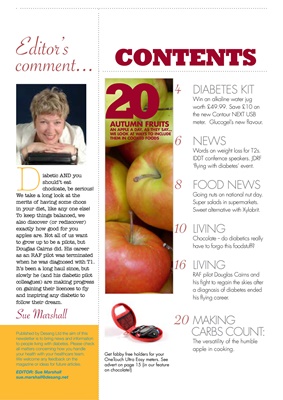 Editor's
comment... contents
20autumn fruits
an apple a day, as they say...
4 DIABETES KIT
Win an alkaline water jug
worth £49.99. Save £10 on
the new Contour NEXT USB
meter. Glucogel's new flavour.
we look at ways to include
them in cooked foods
6 NEWS
Words on weight loss for T2s.
IDDT confernce speakers. JDRF
D
'flying with diabetes' event.
iabetic AND you
should't eat
chocloate, be serious!
We take a long look at the
8 FOOD NEWS
Going nuts on national nut day.
merits of having some chocs Super salads in supermarkets.
in your diet, like any one else! Sweet alternative with Xylobrit.
To keep things balanced, we
also discover (or rediscover)
exactly how good for you
apples are. Not all of us want
to grow up to be a pilots, but
10 LIVING
Chocolate -- do diabetics really
Douglas Cairns did. His career have to forgo this foodstuff?
as an RAF pilot was terminated
when he was diagnosed with T1.
It's been a long haul since, but
slowly he (and his diabetic pilot
16 LIVING
RAF pilot Douglas Cairns and
colleagues) are making progress his fight to regain the skies after
on gaining their licences to fly a diagnosis of diabetes ended
and inspiring any diabetic to his flying career.
follow their dream.
Sue Marshall
Published by Desang Ltd the aim of this
20 CARBS COUNT:
mAKING
newsletter is to bring news and information
to people living with diabetes. Please check The versatility of the humble
all matters concerning how you handle apple in cooking.
your health with your healthcare team. Get fabby free holders for your
We welcome any feedback on the OneTouch Ultra Easy meters. See
magazine or ideas for future articles. advert on page 15 (in our feature
Editor: Sue Marshall on chocolate!)
sue.marshall@desang.net