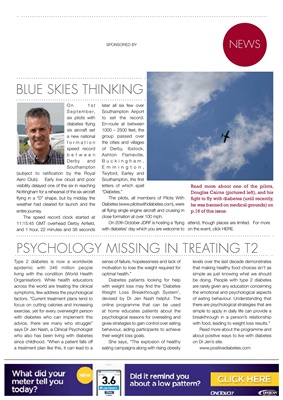 SPONSORED BY NEWS
BLUE SKIES ThINKING
On 1st later all six few over
S e p t e m b e r, Southampton Airport
six pilots with to set the record.
diabetes flying En-route at between
six aircraft set 1000 – 2500 feet, the
a new national group passed over
formation the cities and villages
speed record of Derby, Ibstock,
b e t w e e n Ashton Flameville,
Derby and Buckingham,
Southampton E m m i n g t o n ,
(subject to ratification by the Royal Twyford, Earley and
Aero Club). Early low cloud and poor Southampton, the first
visibility delayed one of the six in reaching letters of which spell Read more about one of the pilots,
Nottingham for a rehearsal of the six aircraft "Diabetes." Douglas Cairns (pictured left), and his
flying in a "D" shape, but by midday the The pilots, all members of Pilots With fight to fly with diabetes (until recently,
weather had cleared for launch and the Diabetes (www.pilotswithdiabetes.com), were he was banned on medical grounds) on
entire journey. all flying single engine aircraft and cruising in p.16 of this issue.
The speed record clock started at close formation at over 100 mph.
11:15:45 GMT overhead Derby Airfield, On 20th October JDRF is hosting a 'flying attend, though places are limited. For more
and 1 hour, 22 minutes and 38 seconds with diabetes' day which you are welcome to on the event, click HERE.
pSyChOLOGy mISSING IN TREATING T2
Type 2 diabetes is now a worldwide sense of failure, hopelessness and lack of levels over the last decade demonstrates
epidemic with 346 million people motivation to lose the weight required for that making healthy food choices isn't as
living with the condition (World Health optimal health." simple as just knowing what we should
Organisation). While health educators Diabetes patients looking for help be doing. People with type 2 diabetes
across the world are treating the clinical with weight loss may find the 'Diabetes are rarely given any education concerning
symptoms, few address the psychological Weight Loss Breakthrough System', the emotional and psychological aspects
factors. "Current treatment plans tend to devised by Dr Jen Nash helpful. The of eating behaviour. Understanding that
focus on cutting calories and increasing online programme that can be used there are psychological strategies that are
exercise, yet for every overweight person at home educates patients about the simple to apply in daily life can provide a
with diabetes who can implement this psychological reasons for overeating and breakthrough in a person's relationship
advice, there are many who struggle" gives strategies to gain control over eating with food, leading to weight loss results."
says Dr Jen Nash, a Clinical Psychologist behaviour, aiding participants to achieve Read more about the programme and
who also has been living with diabetes their weight loss goals. about positive ways to live with diabetes
since childhood. "When a patient falls off She says, "The explosion of healthy on Dr Jen's site.
a treatment plan like this, it can lead to a eating campaigns along with rising obesity www.positivediabetes.com