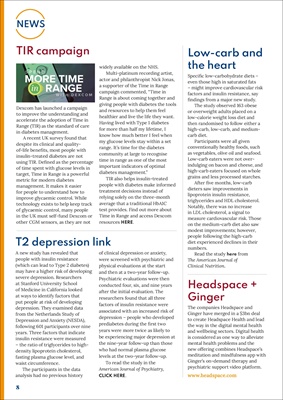 8
NEWS
Low-carb and
the heart
Specific low-carbohydrate diets -
even those high in saturated fats
- might improve cardiovascular risk
factors and insulin resistance, say
findings from a major new study.
The study observed 163 obese
or overweight adults placed on a
low-calorie weight loss diet and
then randomised to follow either a
high-carb, low-carb, and mediumcarb
diet.
Participants were all given
conventionally healthy foods, such
as vegetables, olive oil and seafood.
Low-carb eaters were not overindulging
on bacon and cheese, and
high-carb eaters focused on whole
grains and less processed starches.
After five months, low-carb
dieters saw improvements in
lipoprotein insulin resistance,
triglycerides and HDL cholesterol.
Notably, there was no increase
in LDL cholesterol, a signal to
measure cardiovascular risk. Those
on the medium-carb diet also saw
modest improvements; however,
people following the high-carb
diet experienced declines in their
numbers.
Read the study here from
The American Journal of
Clinical Nutrition.
TIR campaign
Headspace +
Ginger
The companies Headspace and
Ginger have merged in a $3bn deal
to create Headspace Health and lead
the way in the digital mental health
and wellbeing sectors. Digital health
is considered as one way to alleviate
mental health problems and the
new offering combines Headspace's
meditation and mindfulness app with
Ginger's on-demand therapy and
psychiatric support video platform.
T2 depression link
A new study has revealed that
people with insulin resistance
(which can lead to Type 2 diabetes)
may have a higher risk of developing
severe depression. Researchers
at Stanford University School
of Medicine in California looked
at ways to identify factors that
put people at risk of developing
depression. They examined data
from the Netherlands Study of
Depression and Anxiety (NESDA),
following 601 participants over nine
years. Three factors that indicate
insulin resistance were measured
- the ratio of triglycerides to highdensity
lipoprotein cholesterol,
fasting plasma glucose level, and
waist circumference.
The participants in the data
analysis had no previous history
of clinical depression or anxiety,
were screened with psychiatric and
physical evaluations at the start
and then at a two-year follow-up.
Psychiatric evaluations were then
conducted four, six, and nine years
after the initial evaluation. The
researchers found that all three
factors of insulin resistance were
associated with an increased risk of
depression - people who developed
prediabetes during the first two
years were more twice as likely to
be experiencing major depression at
the nine-year follow-up than those
who had normal plasma glucose
levels at the two-year follow-up.
To read the study in the
American Journal of Psychiatry,
CLICK HERE.
Dexcom has launched a campaign
to improve the understanding and
accelerate the adoption of Time in
Range (TIR) as the standard of care
in diabetes management.
A recent UK survey found that
despite its clinical and qualityof-life
benefits, most people with
insulin-treated diabetes are not
using TIR. Defined as the percentage
of time spent with glucose levels in
target, Time in Range is a powerful
metric for modern diabetes
management. It makes it easier
for people to understand how to
improve glycaemic control. While
technology exists to help keep track
of glycaemic control, many people
in the UK must self-fund Dexcom or
other CGM sensors, as they are not
widely available on the NHS.
Multi-platinum recording artist,
actor and philanthropist Nick Jonas,
a supporter of the Time in Range
campaign commented, "Time in
Range is about coming together and
giving people with diabetes the tools
and resources to help them feel
healthier and live the life they want.
Having lived with Type 1 diabetes
for more than half my lifetime, I
know how much better I feel when
my glucose levels stay within a set
range. It's time for the diabetes
community at large to recognise
time in range as one of the most
important indicators of optimal
diabetes management."
TIR also helps insulin-treated
people with diabetes make informed
treatment decisions instead of
relying solely on the three-month
average that a traditional HbA1C
test provides. Find out more about
Time in Range and access Dexcom
resources HERE.