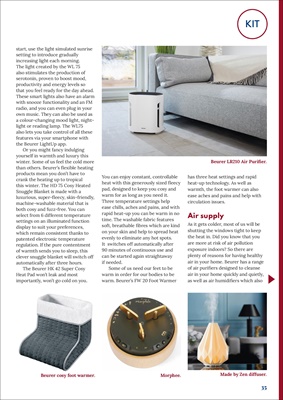 35
KIT
start, use the light simulated sunrise
setting to introduce gradually
increasing light each morning.
The light created by the WL 75
also stimulates the production of
serotonin, proven to boost mood,
productivity and energy levels so
that you feel ready for the day ahead.
These smart lights also have an alarm
with snooze functionality and an FM
radio, and you can even plug in your
own music. They can also be used as
a colour-changing mood light, nightlight
or reading lamp. The WL75
also lets you take control of all these
features via your smartphone with
the Beurer LightUp app.
Or you might fancy indulging
yourself in warmth and luxury this
winter. Some of us feel the cold more
than others. Beurer's flexible heating
products mean you don't have to
crank the heating up to tropical
this winter. The HD 75 Cosy Heated
Snuggle Blanket is made with a
luxurious, super-fleecy, skin-friendly,
machine-washable material that is
both cosy and fuzz-free. You can
select from 6 different temperature
settings on an illuminated function
display to suit your preferences,
which remain consistent thanks to
patented electronic temperature
regulation. If the pure contentment
of warmth sends you to sleep, this
clever snuggle blanket will switch off
automatically after three hours.
The Beurer HK 42 Super Cosy
Heat Pad won't leak and most
importantly, won't go cold on you.
You can enjoy constant, controllable
heat with this generously sized fleecy
pad, designed to keep you cosy and
warm for as long as you need it.
Three temperature settings help
ease chills, aches and pains, and with
rapid heat-up you can be warm in no
time. The washable fabric features
soft, breathable fibres which are kind
on your skin and help to spread heat
evenly to eliminate any hot spots.
It switches off automatically after
90 minutes of continuous use and
can be started again straightaway
if needed.
Some of us need our feet to be
warm in order for our bodies to be
warm. Beurer's FW 20 Foot Warmer
Beurer LR210 Air Purifier.
has three heat settings and rapid
heat-up technology. As well as
warmth, the foot warmer can also
ease aches and pains and help with
circulation issues.
Air supply
As it gets colder, most of us will be
shutting the windows tight to keep
the heat in. Did you know that you
are more at risk of air pollution
exposure indoors? So there are
plenty of reasons for having healthy
air in your home. Beurer has a range
of air purifiers designed to cleanse
air in your home quickly and quietly,
as well as air humidifiers which also
Beurer cosy foot warmer. Morphee. Made by Zen diffuser.