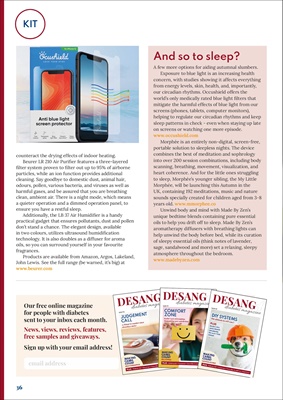 36KIT
Our free online magazine
for people with diabetes
sent to your inbox each month.
News, views, reviews, features,
free samples and giveaways.
Sign up with your email address!
ISSUE 115
MAKING
CARBS
COUNT
MILK ALTERNATIVES
PLUS Diabetes kit • Giveaways • News (for T1 and T2) • Food News
JUDGEMENT
CALL
10 things to consider when
choosing a meter
PLUS
Who's Zooming who?
An update on digital
health delivery
ISSUE 111
MAKING
CARBS
COUNT
BELL PEPPERS
PLUS Diabetes kit • Giveaways • News (for T1 and T2) • Food News
COMFORT
ZONE
Roche's new micropump:
designed for user satisfaction
PLUS
Dexcom's next
generation G7 sensor ISSUE 119
MAKING
CARBS
COUNT
LUSCIOUS LYCHEES
PLUS Diabetes kit • Giveaways • News (for T1 and T2) • Food News
DIY SYSTEMS
The ultimate in self-care?
PLUS
Roche's new
meter launch:
introducing
the Accu-Chek
Instant
email address
And so to sleep?
A few more options for aiding autumnal slumbers.
Exposure to blue light is an increasing health
concern, with studies showing it affects everything
from energy levels, skin, health, and, importantly,
our circadian rhythms. Occushield offers the
world's only medically rated blue light filters that
mitigate the harmful effects of blue light from our
screens (phones, tablets, computer monitors),
helping to regulate our circadian rhythms and keep
sleep patterns in check - even when staying up late
on screens or watching one more episode.
Morphée is an entirely non-digital, screen-free,
portable solution to sleepless nights. The device
combines the best of meditation and sophrology
into over 200 session combinations, including body
scanning, breathing, movement, visualization, and
heart coherence. And for the little ones struggling
to sleep, Morphée's younger sibling, the My Little
Morphée, will be launching this Autumn in the
UK, containing 192 meditations, music and nature
sounds specially created for children aged from 3-8
years old. www.mmorphee.co
Unwind body and mind with Made By Zen's
unique bedtime blends containing pure essential
oils to help you drift off to sleep. Made By Zen's
aromatherapy diffusers with breathing lights can
help unwind the body before bed, while its curation
of sleepy essential oils (think notes of lavender,
sage, sandalwood and more) set a relaxing, sleepy
atmosphere throughout the bedroom. www.
madebyzen.com
counteract the drying effects of indoor heating.
Beurer LR 210 Air Purifier features a three-layered
filter system proven to filter out up to 95% of airborne
particles, while an ion function provides additional
cleaning. Say goodbye to domestic dust, animal hair,
odours, pollen, various bacteria, and viruses as well as
harmful gases, and be assured that you are breathing
clean, ambient air. There is a night mode, which means
a quieter operation and a dimmed operation panel, to
ensure you have a restful sleep.
Additionally, the LB 37 Air Humidifier is a handy
practical gadget that ensures pollutants, dust and pollen
don't stand a chance. The elegant design, available
in two colours, utilizes ultrasound humidification
technology. It is also doubles as a diffuser for aroma
oils, so you can surround yourself in your favourite
fragrances.
Products are available from Amazon, Argos, Lakeland,
John Lewis. See the full range (be warned, it's big) at