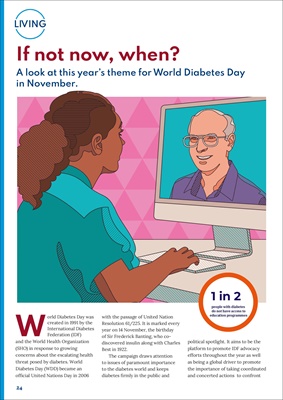 24
NEWSACCESS TO EDUCATION
AND PSYCHOLOGICAL SUPPORT
Join our campaign at:
IF NOT NOW, WHEN?
People living with diabetes need ongoing education
to manage their condition. Many do not have access
to diabetes education.
1 in 2
people with diabetes
do not have access to
education programmes
World Diabetes Day was
created in 1991 by the
International Diabetes
Federation (IDF)
and the World Health Organization
(SHO) in response to growing
concerns about the escalating health
threat posed by diabetes. World
Diabetes Day (WDD) became an
official United Nations Day in 2006
with the passage of United Nation
Resolution 61/225. It is marked every
year on 14 November, the birthday
of Sir Frederick Banting, who codiscovered
insulin along with Charles
Best in 1922.
The campaign draws attention
to issues of paramount importance
to the diabetes world and keeps
diabetes firmly in the public and
political spotlight. It aims to be the
platform to promote IDF advocacy
efforts throughout the year as well
as being a global driver to promote
the importance of taking coordinated
and concerted actions to confront
If not now, when?
A look at this year's theme for World Diabetes Day
in November.