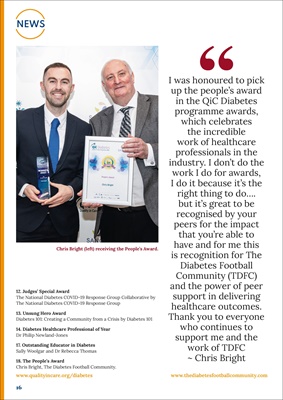 16
NEWS
I was honoured to pick
up the people's award
in the QiC Diabetes
programme awards,
which celebrates
the incredible
work of healthcare
professionals in the
industry. I don't do the
work I do for awards,
I do it because it's the
right thing to do….
but it's great to be
recognised by your
peers for the impact
that you're able to
have and for me this
is recognition for The
Diabetes Football
Community (TDFC)
and the power of peer
support in delivering
healthcare outcomes.
Thank you to everyone
who continues to
support me and the
work of TDFC
~ Chris Bright
www.thediabetesfootballcommunity.com
12. Judges' Special Award
The National Diabetes COVID-19 Response Group Collaborative by
The National Diabetes COVID-19 Response Group
13. Unsung Hero Award
Diabetes 101: Creating a Community from a Crisis by Diabetes 101
14. Diabetes Healthcare Professional of Year
Dr Philip Newland-Jones
17. Outstanding Educator in Diabetes
Sally Woolgar and Dr Rebecca Thomas
18. The People's Award
Chris Bright, The Diabetes Football Community.
www.qualityincare.org/diabetes
Chris Bright (left) receiving the People's Award.