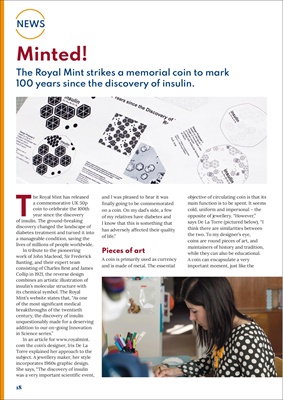 18
NEWS
Minted!
The Royal Mint strikes a memorial coin to mark
100 years since the discovery of insulin.
The Royal Mint has released
a commemorative UK 50p
coin to celebrate the 100th
year since the discovery
of insulin. The ground-breaking
discovery changed the landscape of
diabetes treatment and turned it into
a manageable condition, saving the
lives of millions of people worldwide.
In tribute to the pioneering
work of John Macleod, Sir Frederick
Banting, and their expert team
consisting of Charles Best and James
Collip in 1921, the reverse design
combines an artistic illustration of
insulin's molecular structure with
its chemical symbol. The Royal
Mint's website states that, "As one
of the most significant medical
breakthroughs of the twentieth
century, the discovery of insulin
unquestionably made for a deserving
addition to our on-going Innovation
in Science series."
In an article for www.royalmint.
com the coin's designer, Iris De La
Torre explained her approach to the
subject. A jewellery maker, her style
incorporates 1960s graphic design.
She says, "The discovery of insulin
was a very important scientific event,
and I was pleased to hear it was
finally going to be commemorated
on a coin. On my dad's side, a few
of my relatives have diabetes and
I know that this is something that
has adversely affected their quality
of life."
Pieces of art
A coin is primarily used as currency
and is made of metal. The essential
objective of circulating coin is that its
main function is to be spent. It seems
cold, uniform and impersonal - the
opposite of jewellery. "However,"
says De La Torre (pictured below), "I
think there are similarities between
the two. To my designer's eye,
coins are round pieces of art, and
maintainers of history and tradition,
while they can also be educational.
A coin can encapsulate a very
important moment, just like the