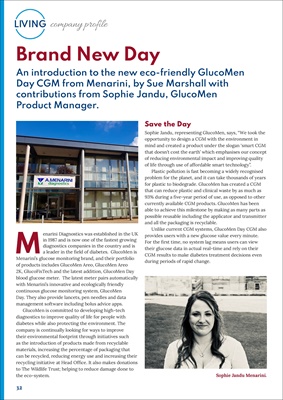 32
LIVING
COMPANY PROFILE
Brand New Day
An introduction to the new eco-friendly GlucoMen
Day CGM from Menarini, by Sue Marshall with
contributions from Sophie Jandu, GlucoMen Product
Manager.
Menarini Diagnostics was established in the UK
in 1987 and is now one of the fastest growing
diagnostics companies in the country and is
a leader in the field of diabetes. GlucoMen is
Menarini's glucose monitoring brand, and their portfolio
of products includes GlucoMen Areo, GlucoMen Areo
2K, GlucoFixTech and the latest addition, GlucoMen Day
blood glucose meter. The latest meter pairs automatically
with Menarini's innovative and ecologically friendly
continuous glucose monitoring system, GlucoMen
Day. They also provide lancets, pen needles and data
management software including bolus advice apps.
GlucoMen is committed to developing high-tech
diagnostics to improve quality of life for people with
diabetes while also protecting the environment. The
company is continually looking for ways to improve
their environmental footprint through initiatives such
as the introduction of products made from recyclable
materials, increasing the percentage of packaging that
can be recycled, reducing energy use and increasing their
recycling initiative at Head Office. It also makes donations
to The Wildlife Trust; helping to reduce damage done to
the eco-system.
Save the Day
Sophie Jandu, representing GlucoMen, says, "We took the
opportunity to design a CGM with the environment in
mind and created a product under the slogan 'smart CGM
that doesn't cost the earth' which emphasises our concept
of reducing environmental impact and improving quality
of life through use of affordable smart technology".
Plastic pollution is fast becoming a widely recognised
problem for the planet, and it can take thousands of years
for plastic to biodegrade. GlucoMen has created a CGM
that can reduce plastic and clinical waste by as much as
93% during a five-year period of use, as opposed to other
currently available CGM products. GlucoMen has been
able to achieve this milestone by making as many parts as
possible reusable including the applicator and transmitter
and all the packaging is recyclable.
Unlike current CGM systems, GlucoMen Day CGM also
provides users with a new glucose value every minute.
For the first time, no system lag means users can view
their glucose data in actual real-time and rely on their
CGM results to make diabetes treatment decisions even
during periods of rapid change.
Sophie Jandu Menarini.