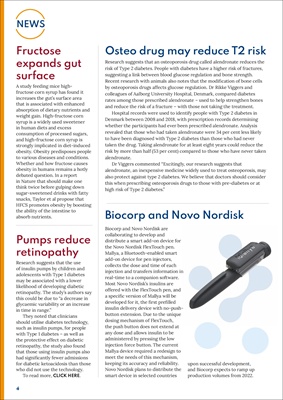 4
NEWS
Fructose
expands gut
surface
A study feeding mice highfructose
corn syrup has found it
increases the gut's surface area
that is associated with enhanced
absorption of dietary nutrients and
weight gain. High-fructose corn
syrup is a widely used sweetener
in human diets and excess
consumption of processed sugars,
and high-fructose corn syrup is
strongly implicated in diet-induced
obesity. Obesity predisposes people
to various diseases and conditions.
Whether and how fructose causes
obesity in humans remains a hotly
debated question2,3. In a report
in Nature that should make one
think twice before gulping down
sugar-sweetened drinks with fatty
snacks, Taylor et al.4 propose that
HFCS promotes obesity by boosting
the ability of the intestine to
absorb nutrients. Biocorp and Novo Nordisk
Osteo drug may reduce T2 risk
Research suggests that an osteoporosis drug called alendronate reduces the
risk of Type 2 diabetes. People with diabetes have a higher risk of fractures,
suggesting a link between blood glucose regulation and bone strength.
Recent research with animals also notes that the modification of bone cells
by osteoporosis drugs affects glucose regulation. Dr Rikke Viggers and
colleagues of Aalborg University Hospital, Denmark, compared diabetes
rates among those prescribed alendronate - used to help strengthen bones
and reduce the risk of a fracture - with those not taking the treatment.
Hospital records were used to identify people with Type 2 diabetes in
Denmark between 2008 and 2018, with prescription records determining
whether the participants had ever been prescribed alendronate. Analysis
revealed that those who had taken alendronate were 34 per cent less likely
to have been diagnosed with Type 2 diabetes than those who had never
taken the drug. Taking alendronate for at least eight years could reduce the
risk by more than half (53 per cent) compared to those who have never taken
alendronate.
Dr Viggers commented "Excitingly, our research suggests that
alendronate, an inexpensive medicine widely used to treat osteoporosis, may
also protect against type 2 diabetes. We believe that doctors should consider
this when prescribing osteoporosis drugs to those with pre-diabetes or at
high risk of Type 2 diabetes."
Pumps reduce
retinopathy
Research suggests that the use
of insulin pumps by children and
adolescents with Type 1 diabetes
may be associated with a lower
likelihood of developing diabetic
retinopathy. The study's authors say
this could be due to "a decrease in
glycaemic variability or an increase
in time in range."
They noted that clinicians
should utilise diabetes technology,
such as insulin pumps, for people
with Type 1 diabetes - as well as
the protective effect on diabetic
retinopathy, the study also found
that those using insulin pumps also
had significantly fewer admissions
for diabetic ketoacidosis than those
who did not use the technology.
To read more, CLICK HERE.
Biocorp and Novo Nordisk are
collaborating to develop and
distribute a smart add-on device for
the Novo Nordisk FlexTouch pen.
Mallya, a Bluetooth-enabled smart
add-on device for pen injectors,
collects the dose and time of each
injection and transfers information in
real-time to a companion software.
Most Novo Nordisk's insulins are
offered with the FlexTouch pen, and
a specific version of Mallya will be
developed for it, the first prefilled
insulin delivery device with no-pushbutton
extension. Due to the unique
dosing mechanism of FlexTouch,
the push button does not extend at
any dose and allows insulin to be
administered by pressing the low
injection force button. The current
Mallya device required a redesign to
meet the needs of this mechanism,
keeping its accuracy and reliability.
Novo Nordisk plans to distribute the
smart device in selected countries
upon successful development,
and Biocorp expects to ramp up
production volumes from 2022.