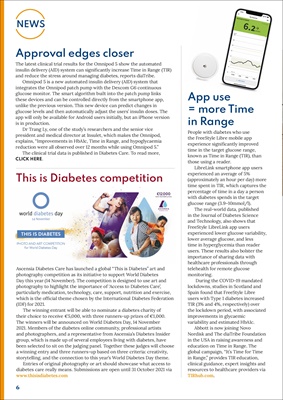 6
NEWS
This is Diabetes competition
App use
= more Time
in Range
People with diabetes who use
the FreeStyle Libre mobile app
experience significantly improved
time in the target glucose range,
known as Time in Range (TIR), than
those using a reader.
LibreLink smartphone app users
experienced an average of 5%
(approximately an hour per day) more
time spent in TIR, which captures the
percentage of time in a day a person
with diabetes spends in the target
glucose range (3.9-10mmol/l).
The real-world data, published
in the Journal of Diabetes Science
and Technology, also shows that
FreeStyle LibreLink app users
experienced lower glucose variability,
lower average glucose, and less
time in hyperglycemia than reader
users. These results also bolster the
importance of sharing data with
healthcare professionals through
telehealth for remote glucose
monitoring.
During the COVID-19 mandated
lockdowns, studies in Scotland and
Spain found that FreeStyle Libre
users with Type 1 diabetes increased
TIR (3% and 4%, respectively) over
the lockdown period, with associated
improvements in glycaemic
variability and estimated HbA1c.
Abbott is now joining Novo
Nordisk and The diaTribe Foundation
in the USA in raising awareness and
education on Time in Range. The
global campaign, "It's Time for Time
in Range," provides TIR education,
clinical guidance, expert insights and
resources to healthcare providers via
TIRhub.com.
Ascensia Diabetes Care has launched a global "This is Diabetes" art and
photography competition as its initiative to support World Diabetes
Day this year (14 November). The competition is designed to use art and
photography to highlight the importance of 'Access to Diabetes Care',
particularly medication, technology, care, support, nutrition and exercise,
which is the official theme chosen by the International Diabetes Federation
(IDF) for 2021.
The winning entrant will be able to nominate a diabetes charity of
their choice to receive €5,000, with three runners-up prizes of €1,000.
The winners will be announced on World Diabetes Day, 14 November
2021. Members of the diabetes online community, professional artists
and photographers, and a representative from Ascensia's Diabetes Insider
group, which is made up of several employees living with diabetes, have
been selected to sit on the judging panel. Together these judges will choose
a winning entry and three runners-up based on three criteria: creativity,
storytelling, and the connection to this year's World Diabetes Day theme.
Entries of original photography or art should showcase what access to
diabetes care really means. Submissions are open until 31 October 2021 via
Approval edges closer
The latest clinical trial results for the Omnipod 5 show the automated
insulin delivery (AID) system can significantly increase Time in Range (TIR)
and reduce the stress around managing diabetes, reports diaTribe.
Omnipod 5 is a new automated insulin delivery (AID) system that
integrates the Omnipod patch pump with the Dexcom G6 continuous
glucose monitor. The smart algorithm built into the patch pump links
these devices and can be controlled directly from the smartphone app,
unlike the previous version. This new device can predict changes in
glucose levels and then automatically adjust the users' insulin doses. The
app will only be available for Android users initially, but an iPhone version
is in production.
Dr Trang Ly, one of the study's researchers and the senior vice
president and medical director at Insulet, which makes the Omnipod,
explains, "Improvements in HbA1c, Time in Range, and hypoglycaemia
reduction were all observed over 12 months while using Omnipod 5."
The clinical trial data is published in Diabetes Care. To read more,
CLICK HERE.