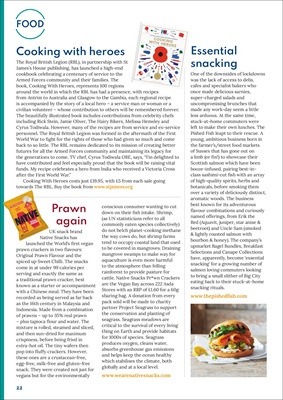 22
FOOD
Cooking with heroes
The Royal British Legion (RBL), in partnership with St
James's House publishing, has launched a high-end
cookbook celebrating a centenary of service to the
Armed Forces community and their families. The
book, Cooking With Heroes, represents 100 regions
around the world in which the RBL has had a presence, with recipes
from Antrim to Australia and Glasgow to the Gambia, each regional recipe
is accompanied by the story of a local hero - a service man or woman or a
civilian volunteer - whose contribution to others will be remembered forever.
The beautifully illustrated book includes contributions from celebrity chefs
including Rick Stein, Jamie Oliver, The Hairy Bikers, Melissa Hemsley and
Cyrus Todiwala. However, many of the recipes are from service and ex-service
personnel. The Royal British Legion was formed in the aftermath of the First
World War to fight for the rights of those who had given so much and come
back to so little. The RBL remains dedicated to its mission of creating better
futures for all the Armed Forces community and maintaining its legacy for
the generations to come. TV chef, Cyrus Todiwala OBE, says, "I'm delighted to
have contributed and feel especially proud that the book will be raising vital
funds. My recipe celebrates a hero from India who received a Victoria Cross
after the First World War."
Cooking With Heroes costs just £19.95, with £5 from each sale going
towards The RBL. Buy the book from www.stjamess.org
Essential
snacking
One of the downsides of lockdowns
was the lack of access to delis,
cafes and specialist bakers who
once made delicious sarnies,
super-charged salads and
uncompromising brunches that
made any work-day seem a little
less arduous. At the same time,
stuck-at-home commuters were
left to make their own lunches. The
Pished Fish leapt to their rescue. A
young, ambitious business born in
the farmer's/street food markets
of Sussex that has gone out on
a limb (or fin!) to showcase their
Scottish salmon which have been
booze-infused, pairing best-inclass sashimi-cut fish with
an array
of high-quality spirits, herbs and
botanicals, before smoking them
over a variety of deliciously distinct,
aromatic woods. The business
best known for its adventurous
flavour combinations and curiously
named offerings, from Erik the
Red (Aquavit, juniper, star anise &
beetroot) and Uncle Sam (smoked
& lightly roasted salmon with
bourbon & honey). The company's
upmarket Bagel Bundles, Breakfast
Selections and Canape Collections
have, apparently, become 'essential
snacking' for a growing number of
salmon loving commuters looking
to bring a small slither of Big City
eating back to their stuck-at-home
snacking rituals.
Prawn
again
UK snack brand
Native Snacks has
launched the World's first vegan
prawn crackers in two flavours:
Original Prawn Flavour and the
spiced up Sweet Chilli. The snacks
come in at under 99 calories per
serving and exactly the same as
a traditional prawn cracker, best
known as a starter or accompaniment
with a Chinese meal. They have been
recorded as being served as far back
as the 16th century in Malaysia and
Indonesia. Made from a combination
of prawns - up to 35% real prawn
- plus tapioca flour and water. The
mixture is rolled, steamed and sliced,
and then sun-dried for maximum
crispiness, before being fried in
extra-hot oil. The tiny wafers then
pop into fluffy crackers. However,
these ones are a crustacean-free,
egg-free, milk-free and gluten-free
snack. They were created not just for
vegans but for the environmentally
conscious consumer wanting to cut
down on their fish intake. Shrimp,
(as UN statisticians refer to all
commonly eaten species collectively)
do not belch planet-cooking methane
the way cows do, but shrimp farms
tend to occupy coastal land that used
to be covered in mangroves. Draining
mangrove swamps to make way for
aquaculture is even more harmful
to the atmosphere than felling
rainforest to provide pasture for
cattle. Native Snacks Pr*wn Crackers
are the Vegan Bay across 222 Asda
Stores with an RRP of £1.60 for a 60g
sharing bag. A donation from every
pack sold will be made to charity
partner Project Seagrass to support
the conservation and planting of
seagrass. Seagrass meadows are
critical to the survival of every living
thing on Earth and provide habitats
for 1000s of species. Seagrass
produces oxygen, cleans water,
absorbs greenhouse gas emissions
and helps keep the ocean healthy
which stabilises the climate, both
globally and at a local level.